Golf aside, Spanish Peaks in Montana is the great escape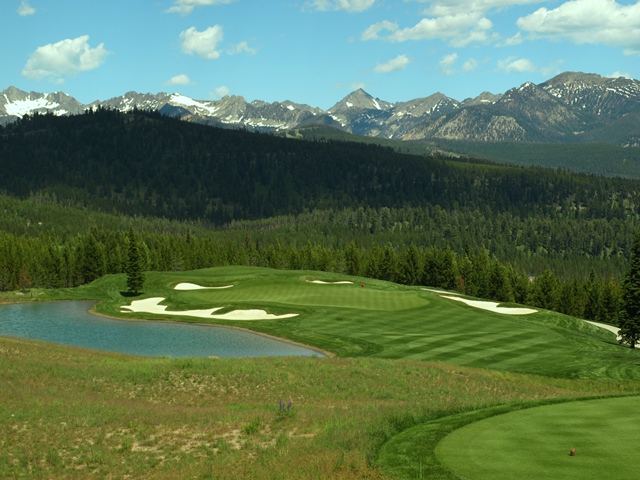 The par-3 15th at Spanish Peaks (Mike Bailey/TravelGolf)
BIG SKY, Montana – For the past couple of days, I've been in golf heaven as a guest at The Club at Spanish Peaks, which is located at the edge of Yellowstone National Park in southern Montana near the Wyoming border
Spanish Peaks' Tom Weiskopf-designed course, which opened in 2007, is a joy to play, with one spectacular view after another and perfectly conditioned fairways and greens. But the most important element of this experience isn't the pristine layout; it's the relatively untamed wilderness, a vantage point most Americans really never get to experience. It's no wonder captains of industry and celebrities have second or third homes here. Nothing says serenity like the Rocky Mountains, cool nights and absence of city lights.
As they try to build out their membership and sell real estate around Spanish Peaks, the facility is open to limited resort play. Guests can book stay-and-play packages, lodging at the beautiful log-cabin style lodge clubhouse or in one of the resort's cabins.
What really separates this mountain retreat apart, however, are all the other things you can do besides golf. Fly-fishing here on the nearby Gallatin River is legendary. Whitewater rafting and kayaking is among the best in the world. And there's world-class mountain biking, mountain climbing, backpack trips into Yellowstone National Park and guided two or three-day trips on horseback into the back country of Yellowstone.
In short, here the buffalo still roam, but at Spanish Peaks you're never too far away from gourmet food and first-class service. Plans call for a lodge, spa and other amenities in the near future, but as it stands right now, this is one heck of an escape, even if you just came here for the golf.
2 comments
It looks just like the great Canadian outdoors. If anyone has ever player up north they know what I'm talking about. Do they ever have any damage from the wildlife? I know in Alberta they are always having to repair the course because of deer.

Chris
http://www.teewrite.com - Home of the pencil golf tee
07/19/11 @ 04:11
I use to work here and at night we would have to pull the flags because they were made of wood and the elk would rub their antlers on them and snap them!
10/07/13 @ 15:18
This post has 1 feedback awaiting moderation...
Comment feed for this post
Leave a comment