Snowed out golf translates to long breakfast in Truckee, California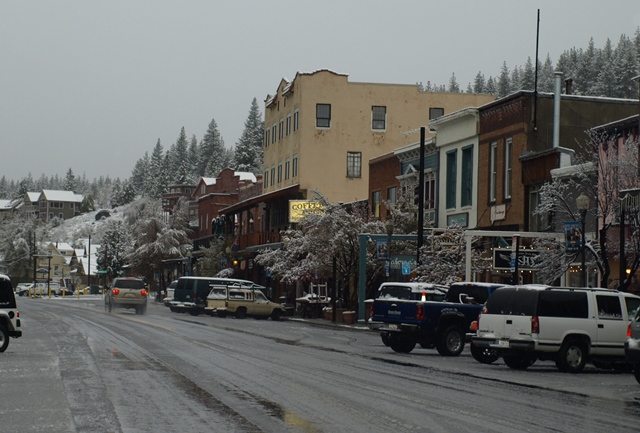 Snow fell overnight on Truckee, Calif. (Mike Bailey/TravelGolf)
TRUCKEE, Calif. – It's June 6, and my golf round at Coyote Moon Golf Club has been snowed out. I woke up this morning at 5:30, only to look out the window of my room at the old Truckee Hotel to see snow falling, lots of it.
Speaking of the Truckee Hotel, that was a different experience as well. I'm having several of those today. The hotel, which was originally built in the 1800s and rebuilt over a century ago, is like going back in time. It's supposedly haunted, but I'm pretty sure the clanking I heard was the radiator pipes. It reminded me of when I was a kid living in an old apartment building in Germany in the 1970s. Somehow I could sleep through it back then.
And in my case, the toilet and shower were down the hall. There's no television in the room, which is a little smaller than I'm used to. In the middle of the night, I heard the train pass by at least three times. That normally wouldn't be a problem, except it blew its horn every time it went through the main intersection in town, which is right next to the hotel. This is how things used to be, so if you're into history, the Truckee Hotel is where you want to stay. The owner of hotel, who also has the comfortable Hampton Inn and Suites in town, is renovating, but because it's a historical landmark, there's only so much he can do.
No doubt, we are spoiled these days. Sunday night I stayed at the Atlantis Casino Resort Spa in Reno, Nevada. The room was spacious and included a large high-def flat screen, an iPod-ready radio/alarm clock and a bathroom. But that was then. Today, I'm hanging out in Truckee for a while, waiting for the weather to clear.
So this morning I wandered into Smart's Wagon Train Coffee Shop. An attractive woman behind the counter asked if I was going to sit down or get breakfast to go. I wanted to know if they had Internet so I could get some work done. After a couple more exchanges, I told her I'd be back in a little while.
Apparently, one of her customers, who thought she might have been a little too direct with me, bet her five bucks I wouldn't return. She won. There was no way I was passing this up.
As it turns out the Smart family opened this coffee shop back in 1947. The place is filled with all sorts of interesting things and stories. There's a sign that says "If you haven't received your food in 31 minutes or less, you probably won't." On one of the walls is a large moose head. Near the ceiling is a large scale model railroad, and there are plenty of old vintage signs and family photos, like the tribute Siobhan Smart put together after the Wagon Train's original owner, Reg, died at age 93 last year.
In case you haven't guessed, Siobhan, who married Reg's youngest son Brian 14 years ago, is the one who greeted me this morning. She served up a large helping of Brian's Special, which is scrambled eggs with ham, mushrooms, Monterey Jack cheese and green chiles, and after an hour or so visiting with Siobhan and the gang, I had more coffee than I've had in the last month.
Siobhan sort of runs things here now (Brian runs the kitchen). A staunch conservative with multiple college degrees, her views are "non-filtered," which is more entertaining than many of my golf rounds. She has a passion for the restaurant and her friends and the "kids" who work for her. Besides showing up for work, young help must also maintain a 3.6 grade point average in school.
At one point she took a call from someone who apparently made a comment about today's weather.
"Merry June?" asked Siobhan, who is also president of the local NRA chapter. "I got your Merry June…"
The locals are sick of the snow. It's been a long winter, and the next winter isn't far away. They've got nine golf courses around here, and most of them are pretty darn good. And the Wagon Train offers golfers half off breakfast if they stop by before 7:30.
Tomorrow the weather is supposed to improve drastically. That means I'll be back on the golf courses in the Reno-Tahoe area. But today, as it turned out, a freak snowfall was my good fortune.
1 comment
Did you tell the pro at the course that you play those little yellow srixon balls ? Maybe they would have let you have at it if you did !!! Always entertaining to hear your off-the-course experiences.
06/10/11 @ 21:05
Comment feed for this post
Leave a comment