Dye's golf course at French Lick is a beast and a beauty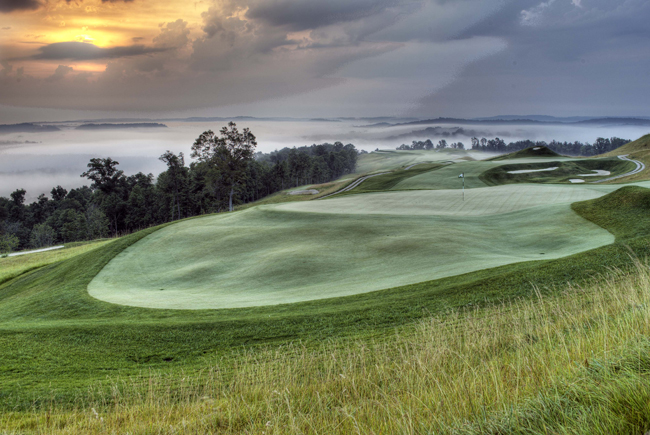 The Pete Dye Course at French Lick entices. (Courtesy of FrenchLick.com)
FRENCH LICK, Ind. – Yesterday afternoon, I finally played the Pete Dye Course at the French Lick Resort. I don't know what all the fuss was about. Overly difficult? I was even par after six holes, having just come off a birdie.
A couple of hours later, I understood. In fact, I'm still feeling some pain in my left wrist from trying to hack out three-foot heather, or whatever they want to call the stuff that looms left of most of the fairways. Once you start spraying the driver a little, especially to the left, it's all over. And the par-3 16th, with water on the right marked by yellow stakes, and high grass left of a narrow green ? man, you just gotta be good, no matter what tees you play. Hit it in the water, and you're re-teeing. Hit it in the thick stuff, and you probably won't find it. The island green 17th at the Stadium Course at the TPC Sawgrass has nothing on this hole.
Okay, but enough of this doom and gloom. Much has been made of the back tee yardage of 8,100 yards, but unless you're just a masochist and a plus-5 handicap, why would you even consider that? I had a blast playing the course. And yes, the $350 green fee is steep, but there are ways around it, like setting up stay-and-play packages that include both the Dye Course, the Donald Ross Course and one of the crazy, cool vintage hotels at the resort. And speaking of the Ross Course, that one isn't easy either. The par 3s are particularly difficult, but it's great golf, having recently been renovated to perfection. As a combination, the two are pretty special, which made for a great 36-hole day yesterday.
You may ask yourself, though, why I would want to play the Dye Course if it's so hard. Here are three reasons: the views, the test and the conditioning. All three are unsurpassed, and as Head Professional Jan Tellstrom says, you should see it in the morning when the fog sits below the mini-mountain on which this virtually treeless two-year-old course is built. (see photo above)
It reminds me a little of the work that the Dyes did on Fuego Maya in Guatemala. (Check out this Fuego Maya photo gallery to see what I mean.) Both are incredibly stunning and very difficult, especially if you play tees beyond your ability. But as my playing partner Kevin Johnson, an assistant pro on the Dye Course, pointed out, Alice Dye set the forward tees at French Lick so there are no forced carries, and you can run up shots if you need to. Yes, it's tough, but I listened to groups come into the pro shop afterwards, and every one of them said it was absolutely worth it. And that's the praise that probably counts the most.
1 comment
Next to a beautiful woman, there is nothing more beautiful than a golf course on a peaceful, serene morning. Sounds like a massage would be in order after THAT 36 holes you played !!!
05/29/11 @ 11:44
Comment feed for this post
Leave a comment