Nothing overrated about playing golf on the Old Course at St Andrews for the first time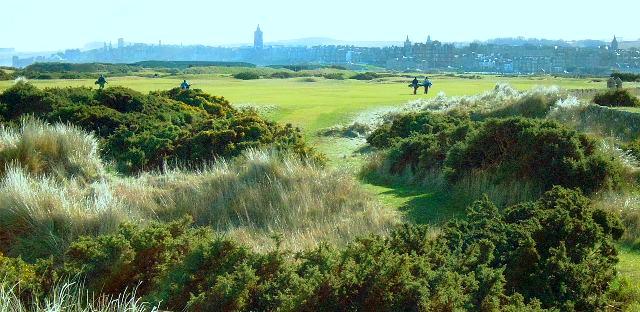 The 14th on the Old Course (Courtesy of St Andrews Links Trust)
ST ANDREWS, Scotland – On a mission to play golf on the Old Course at St Andrews, I arrived at 6 a.m., got in the queue and gave my name to the starter, hoping to be squeezed in as a single. The tee sheet was full, I was number 13 in line, and the starter politely informed me that it wasn't looking great – at least for getting on in the morning.
You see, the Old Course has been closed all week to the public due to the Royal & Ancient annual spring meeting. Friday was the first day we could enter the ballot to try to get a tee time, and apparently, that's what everybody did. Unsuccessful on that front, I took my chances as a single and showed up early in the rain, hoping for the best. Since I return to the States on Sunday, I knew I had only two shots to get on – Friday and Saturday – and the weather forecast for Saturday was dreadful.
The Old Course, which I had never played before, is one of three that should be on every golfer's bucket list. Pebble Beach and Augusta National are the other two. There may be better courses, but none so famous or with so much history. I've been lucky enough to play Pebble a couple of times, and I am still waiting for my Augusta National invitation.
With only three or four single spots open in the morning, the starter advised me to go get breakfast and check back later. I did just that, figuring it would be hours. After a venti coffee at Starbucks (came all the way to Scotland and wound up at Starbucks – geez) and reading the local paper front to back, I returned.
"You're in luck," I was told. "We had two four-balls that didn't show up, and we were able to get eight more singles out. You're going to get the next spot."
And that spot came up rather quickly. The 8:50 tee time featured a couple of R&A members who were playing a match. It was their option whether or not they wanted to take on a single or two. They chose to fill out the four-ball (it's called four-ball over here, not foursome, the latter of which is actually just two balls in play). With nary enough time pay the $230 green fee, find a glove, a tee and a golf ball before it was my turn to hit my tee shot, I had no time to get nervous. With my caddie, Martin, giving me direction, I parted the first fairway with a perfectly struck drive.
What happened after that is what golfers dream about. What happened three holes later was reality.
With 110 yards to carry Swilcan Burn, I hit gap wedge about 15 feet past the pin and drained the putt, as if Bobby Jones himself was there helping me guide the putter. I was under par on the Old Course. Damn straight.
Then, on the par-4 fourth, a not so-subtle reminder of my true golf abilities reared its ugly head. I pushed my tee shot into the yellow-blooming gorse, never to be heard from again. After re-teeing, I lay three in the fairway. Then after I hit my approach right at the flag, I turned to Martin, and asked, "It's a little short, isn't it?"
Well, not exactly.
"Ya hidit to the wrong grin," he exclaimed. (OK, that's the last time that I try to phonetically sound out Martin's Scottish accent.)
You see, there are double greens all over the Old Course links. White flags indicate the outward nine; red signal the inward nine. Thinking about how badly things had turned, I hadn't even bothered to notice. End result: 8. Next hole: double-bogey 7 on the first of the course's two par 5s.
I tried to put those two holes behind me, per Martin's advice. And I did. Three more pars and birdie, and I had salvaged 41 on the front. I hung on for most of the back nine, and then got to the 17th, the famous Road Hole. Having played the replica of this hole at Royal Links Golf Club in Las Vegas, I had a little practice, but this was the real thing.
"Split the 'V' on the shed," Martin told me.
It would be the best drive I hit all day. I wound up making bogey, but so what? Then I hit a perfect drive on the 18th, posed on the Swilcan Bridge ala Jack Nicklaus and Arnold Palmer, and finished with par as the sun broke through the clouds. Another 41 for 82. A few shots off the course record, to be sure, but a very successful day.
Cost to play the Old Course, including caddie fee and tip: about $335. Not totally embarrassing yourself on the Old Course: Priceless.
If anyone tells you the Old Course is overrated, don't believe them. It's everything it's cracked up to be. There's nothing like it in the world.
At one point today, Martin explained to me that if you take the first letters of the golf courses (not including the fairly new Castle Course) that come under the St Andrews Links Trust, it spells B. JONES. Coincidence?
"It has to be," he said. "The courses were around hundreds of years before he (Bobby Jones) was born."
It's merely further confirmation that St Andrews is indeed the Home of Golf.
7 comments
Comment
from: dsimpson [Visitor]
A dream come true !!!! WOW !!! What a great feeling, to be sure, to play at the birthplace of the game we love so dearly !!!! I am licking my chops !!!!
05/08/11 @ 12:26
Comment
from: Vic Williams [Visitor]
OK Mike, you found your way over there. I want a spot in your next four-ball at the Old Course. Play you straight, up, like always. Someday, laddie.
05/09/11 @ 06:53
Comment
from: Larry Patnongon, Jr. [Visitor]
Wowowee mike! I wish i will have that excellent round of golf when i drop by to try to play there this coming September, Why September you will ask?You see i will just tag along when my wife will have their convention in London, and myself will fly to scotland to try to play the HOLY GRAIL of golf, the old course at st andrews, i will also take the chance that you got in tee time ballot and hopefully i will have one too!
Thank you for those little information that you shared too! Great!
05/09/11 @ 23:17
Comment
from: Steven [Visitor]
It's overrated.
05/10/11 @ 19:53
Comment
from: Steven [Visitor]
It's nice to be missed.

As you very well know I have never been a "links golf" guy. That was because my limited, but privileged experience with the concept came from my one round at The Old Course.

That was until I played Royal Porthcawl in Wales. Oh my God! Absolutely awesome golf! One hole after another of great architecture. I have found a new hobby - studying links layouts.

05/15/11 @ 08:55
This post has 1 feedback awaiting moderation...
Comment feed for this post
Leave a comment