Comfort, tranquility and really good golf at the Fairmont St. Andrews golf resort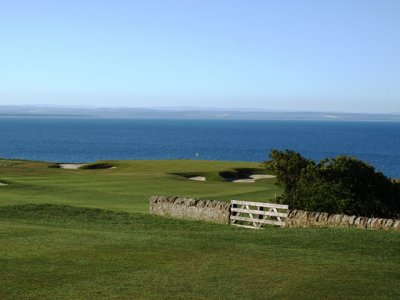 ST ANDREWS, Scotland – This week, I'm living what should be every golfer's dream – playing golf in St Andrews. While I haven't played the Old Course yet (hoping for that on Friday), I've had two perfect days of golf that included the stunning Kingsbarns, the Kingarrock Hickory Golf Course, and a round on each of the two courses at the Fairmont St. Andrews.
I've been to other parts of the United Kingdom several times, but it's taken me this long to make my journey to the birthplace of the game, and it's everything it's cracked up to be. The town of St Andrews is every bit as charming as advertised, the golf doesn't disappoint, the hospitality is even better and the weather ? well, so far, we've lucked out. We've had sunny skies, light winds and temperatures in the 50s. That's about to change, I'm told, but I'm not going to worry about tomorrow yet.
You can come to St Andrews with two mindsets – find a bed and breakfast or some other charming hotel in town or stay in a full-blown resort property. This week, I'm doing the latter at the Fairmont St. Andrews, a luxury resort located just outside of town, and you might find that the prices, especially during peak season, somewhat comparable to what you'll get in town.
Really, the Fairmont is the best of both worlds. Great food, luxurious rooms, fitness center, a spa and your own really nice bathroom are just part of the package. (When you're walking 36 holes a day, being able to get a massage is a real bonus.) And the resort also has two pretty tasty golf courses, which if they were located anywhere but St Andrews, would be getting more notoriety.
The golf is right on the property, easier to get on than many of the St Andrews Links Trust courses, and it doesn't lack in links feel, scenery or conditioning. Opened in 2001, the Torrance Course was designed by former European Ryder Cupper Sam Torrance, and the Kittocks Course (pictured above) was laid out by Bruce Devlin.
They complement each other well. While the Torrance Course (a British Open Qualifier site in 2010) is more inland, it still has great views of the sea in the background and plenty of interesting holes with scores of deadly pot bunkers, deep burns to catch misplaced shots and confounding greens. The Kittocks is right on the ocean and has one great vista after another. And the clubhouse, which offers an excellent menu (I'd recommend the sea bream), shares those views.
This is really a great base for a St. Andrews golf vacation. There's no reason why you can't play all the great courses in the area and relax at a top resort that has a look that blends in with its surroundings. For me, the older I get, the more comfort I want, especially after I've walked and carried my bag all day.
No feedback yet
Comment feed for this post
Leave a comment