A year later after the oil spill, Louisiana, Gulf Coast golf and fishing appears to be fine
LAKE CHARLES, La. – It's been exactly a year since an explosion aboard the Deepwater Horizon drilling rig killed 11 workers and released nearly 5 million barrels of oil in the Gulf of Mexico. Not only did it affect the coastline, but it devastated tourism along the Gulf Coast as well.
It appears however, that the cataclysmic prediction of doom and gloom was overblown. Though the long-term effects can't be known now, local officials have more than given the all-clear signal. And if you visit here, play golf, go fishing or go to the beach, you'd be hard-pressed to find evidence of the spill.
"We're inviting America to come down here, have a great time, enjoy our seafood and be part of the greatest rebirth you will ever see," Louisiana Gov. Bobby Jindal was quoted as saying at a ceremony to mark the event's anniversary.
The bottom line is that places like Lake Charles, with its casinos hotels and golf courses, are good destinations, especially if you're looking for a lot of bang for your buck. Green fees are generally $50 or less for courses like the Tom Fazio-designed Contraband Bayou, The National Golf Club of Louisiana or Gray Plantation.
And like other parts of the Gulf Coast, southwest Louisiana is the perfect place to combine fishing and golf. Our group did just that yesterday ? fishing in the morning followed by golf at The National Golf Club of Louisiana. The fishing turned out better than expected, courtesy of Calcasieu Charter Service. We found a spot where a group of 10 of us hauled in around 30 fish, almost all of them redfish. If you've never had redfish, you've missed out, but redfish you caught that morning is especially good.
You can have similar experiences on the Mississippi and Alabama coasts. And again, there are a lot of quality, affordable golf courses all along the southern part of these states.
"Our beaches are cleaner than they ever have been," said Duncan Millar, executive director of the Gulf Shores Golf Association. "The seafood is safer than any time in history as it is being tested and observed more than ever. I had some wonderful wild red snapper caught fresh in the Gulf on Sunday."
Miller added that courses are busy and in great shape.
"But best of all our true Southern hospitality is better than ever," Millar added. "Our resilient spirit that has guided us through the past year is passed along in genuine warmth to the visitors who support our great region."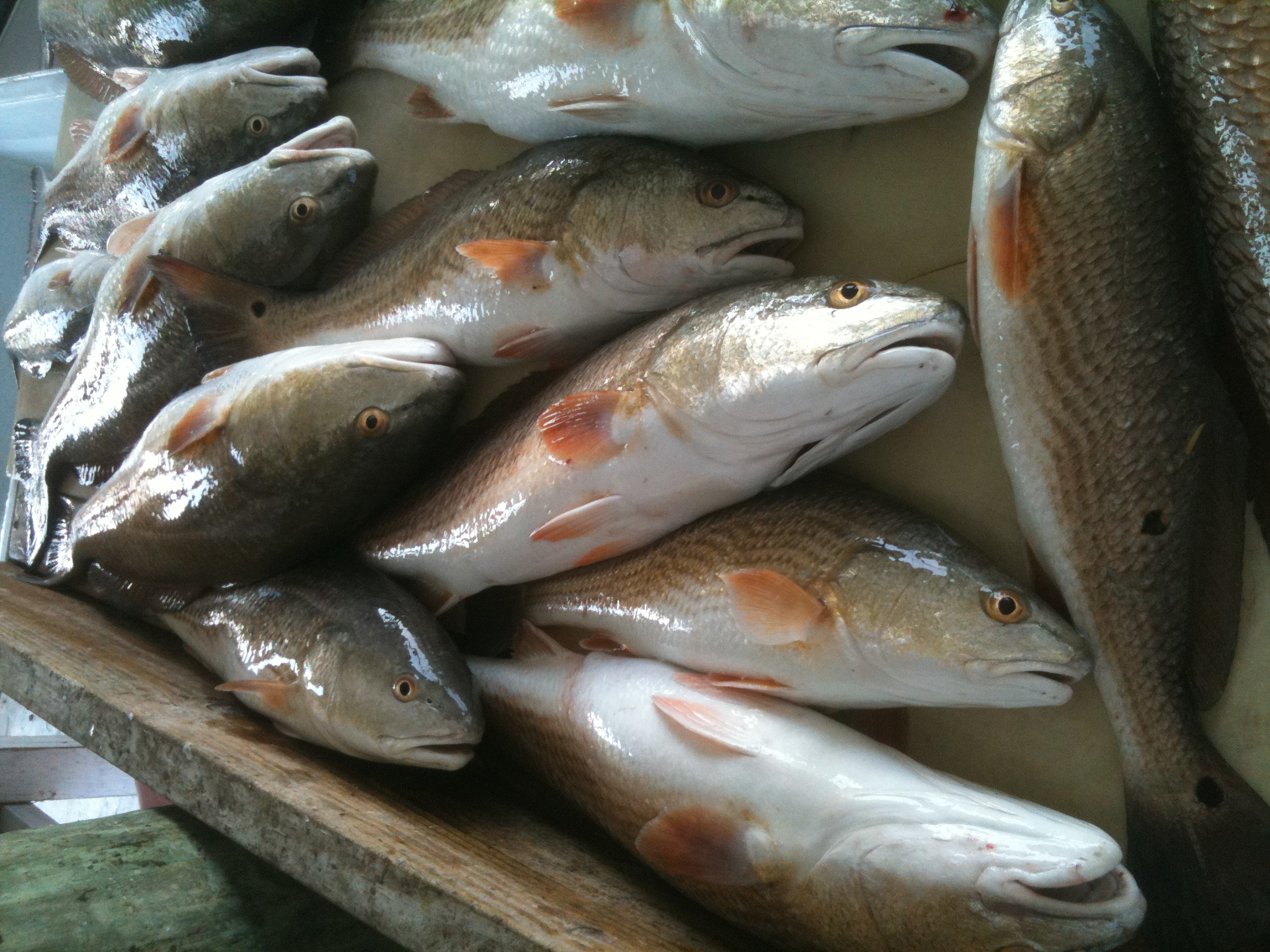 Our haul of redfish from Big Lake in southwest Louisiana.
2 comments

It was a really one of the worst disaster in the history in that sector the work really tough so many precautions have to be taken while working so past is past now the workers have to take preliminary precautions while they working then these disasters will not occur again and again.
04/21/11 @ 03:38
Comment
from: louisiana jones act attorneys [Visitor]
The seafood is safer than any time in history as it is being tested and observed more than ever.
08/04/11 @ 21:15
Comment feed for this post
Leave a comment