These Thai elephants don't play golf, but they do have a great stroke
Thai elephants create a work of art (Mike Bailey)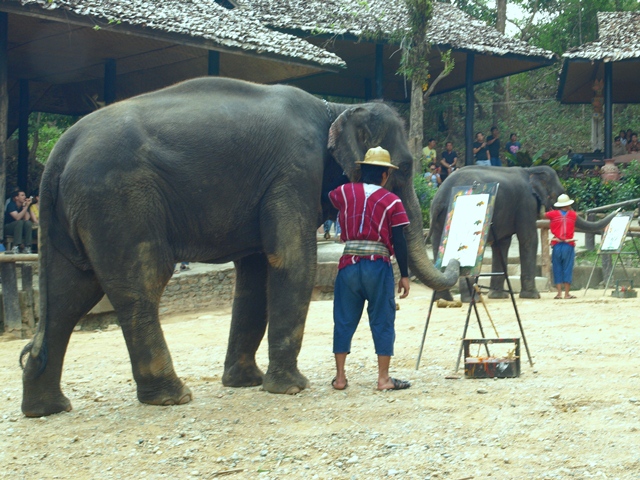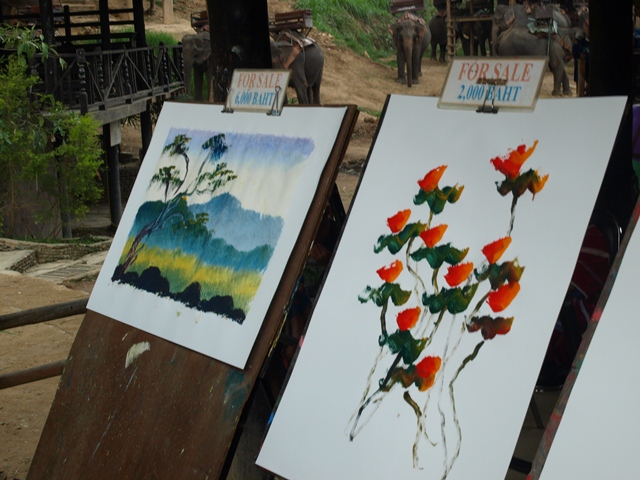 CHIANG MAI, Thailand – Of the many cultural activities I've experienced on this golf trip to Thailand, one of the more memorable was the Maesa Elephant Camp in the northern part of the country.
The elephant camp is located up in the hills just outside of Chiang Mai. The experience, which was part of a tour put together by GolfAsian, had two parts. First, there's a show featuring dozens of Asian elephants and their trainers; and secondly, in sort of an ancient amusement park set-up, guests can board elephants for a slow roller coaster up and around the mountainside on perilously perched trails. (The Thai word for elephant, by the way, is "Chang," which is also the name of a popular beer here.) Fortunately, it didn't appear as if any elephants had slipped off the side with their riders recently, so I deemed the experience to be rather safe.
The show, however, was even more impressive. These elephants were good at several things. They could play soccer, throw darts, steal and replace their trainers' hats (then pat them on the head), take tips from audience members with their trunks and even paint a picture. That's right, they're artists, and their work didn't look like a Rorschach's Test. Their trainers loaded their brushes for them with different colors, but the pacaderms actually painted the pictures. Fifteen or 20 minutes later, there were several brand new pieces of artwork, suitable for framing and hanging in your living room. How good was the art? Better than the average human can do. The subjects were flowers, trees, mountains, etc. And you didn't have to squint to see them.
As it turns out, the elephants set a Guinness World Record in 2005 by using the most elephants (eight) to create a modern impressionist painting depicting the scenery of Northern Thailand. The painting was sold for a record 1.5 million Thai baht (over $50,000 U.S.) to a Thai businessman living in California.
They could probably play golf, too, with a little training, but I wouldn't want to follow them on the greens ? for a number of reasons.
2 comments
Comment
from:
Justin Watt
[Visitor]
If you have a chance, please visit the Elephant Nature Park just north of Chiang Mai. It's a reserve for elephants that have been injured working in logging and trekking operations. While there, you'll also learn about the brutal techniques used to break a baby elephant and force them to paint.

I just spent last week volunteering there. It was a wonderful experience, and one I highly recommend to anyone interested in experiencing more natural elephant behaviors, like eating, bathing, and playing in mud.
03/28/11 @ 09:55
Comment
from: dsimpson [Visitor]
Also remember, elephants never forget a thing !! Do not make them mad or you will forever be on their !@#$ list !! Sounds like this trip is hard to beat on the exotic level !!!
03/28/11 @ 18:14
Comment feed for this post
Leave a comment