In Thailand, caddies know golf and service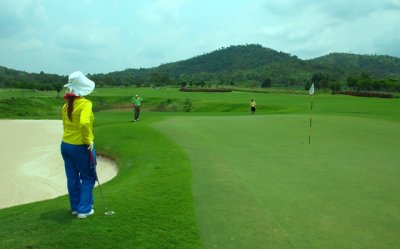 PATTAYA, Thailand ? There are lots of things that differentiate a golf trip to Thailand, but one of the most significant is the compulsory caddie program.
You might be thinking to yourself that you'd rather not, that you don't want to spend the extra money, or you really don't need the help. But it's a unique experience I'll definitely miss when I return home in about 8 days. The courses here ? such as the Siam Country Club and Laem Chabang International near the coastal city of Pattaya – are pretty nice courses, but you don't travel 10,000-plus miles to see another golf course; taking a golf trip to Thailand is about the other stuff.
First off, almost all the caddies are female, and if you're thinking they might not know what they're doing, think again. They don't carry your bag, per se; instead each player is assigned one caddie and one cart, and they drive you around ? or you can walk if you like.
They dress sharply, usually in brightly colored pressed outfits, complete with a large hat wrapped with a towel and white gloves. These gals are quick, too. By the time I got to my ball, my caddie was usually waiting for me with a yardage and the right club. What amazed me, though, was how often they picked the right club for me after just a couple of holes.
They do know golf, and many of them are pretty good players. In fact, Thailand has a pretty comprehensive program promoting its national caddie championship and sends its winners to other countries to compete.
Even if your caddie doesn't seem to speak much English, they do a great job of communicating with you: "One ball left, a half pin to the right (if the break is really big), downwind, pin up front," and so on. They know their golf terms, and they can also read the greens because they are extensively trained.
And the service starts from the time you arrive. When a group arrives, your caddie immediately loads the bag and waits to take you to the range, the practice green, the first tee – wherever you want to go. At the end, they take you and your clubs where they need to go and give you a ride back to the locker room to change.
The cost for this great service is usually less than half of what you would pay in the States. Including tip, having a caddie often runs less than $50, sometimes significantly less.
And it isn't exploitation. These folks take pride in what they do, and it's a good job, which is one of the reasons caddies are mandatory. It helps with employment ? a win-win for everyone.
For more information or help planning a trip to Thailand, you can check out GolfAsian
1 comment
Comment
from: dsimp [Visitor]
So I would expect they take 5-7 strokes off your score as well ?! Refreshing article about caddies/service. It should provide less things to think about during the round for sure, as long as you TRUST them !!! Sounds great !!
03/25/11 @ 09:15
Comment feed for this post
Leave a comment