Crazy colored Chromax balls help keep golf interesting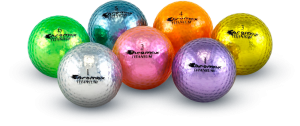 The reaction I got when I put a Chromax ball on the tee recently was priceless. It was just the looks on my group's faces. You could read their minds: "What in the world…"
It looked like I was about to blow up a small Christmas ornament. Overcoming my own laughter was difficult, but as it turned out, I hit that shiny sphere right down the middle, its casing glimmering in the sunlight. I could follow this ball all the way to the ground. Heck, you could probably see it from the moon.
Often, with white golf balls, I lose it them in the first hundred yards, which is why I'm a big fan of the Srixon Tour Yellow Z-Stars. Those show up pretty well, too, but they're pretty tame compared to the Chromax.
Suprisingly, the two-piece Chromax felt pretty good, because it didn't look like it would. They look fragile and hard. I expected a metallic ping, but if you kept your eyes closed, you couldn't tell the difference. It didn't act like a premium performance ball like the Srixon, but it was more than adequate, like the Bridgestone E-6 or the Titeist NXT. And it certainly didn't seem to lack for distance.
Chromax has actually been around since 2007. The golf balls come in a rainbow of colors like gold, pink, purple and silver. They have a reflective metallic layer inside an outer translucent layer, which means they glisten in the air and on the ground, especially in the sunlight. If you hit it in the woods, you've got a good chance at finding it, but not always. I proved that after just a few holes. Still, your chances of finding a wayward Chromax are far greater than an ordinary white ball.
They come in different compressions for different swing speeds. And in case you're wondering, they are also USGA-approved. So if you wanted to tee them up in a U.S. Open qualifier, knock yourself out. Better yet, what better way to humble your buddies than by taking them down in your weekly game with these little gems.
I've been seeing them at more and more golf shops lately.
So if you're curious, check out your local retailers and give them a try. If nothing else, they make for a nice change of pace.
No feedback yet
Comment feed for this post
Leave a comment