Short and sweet: No. 7 at Pebble Beach Golf Links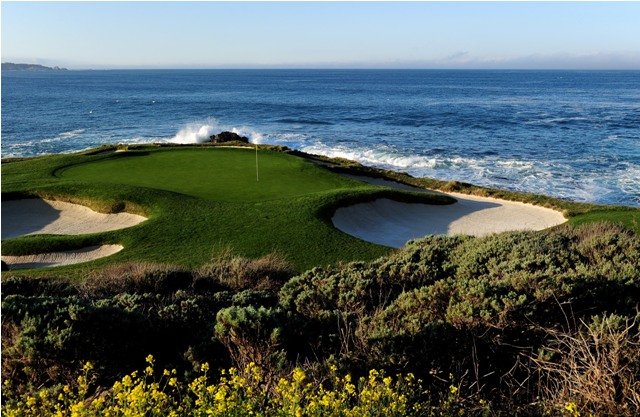 The seventh at Pebble Beach (Getty Images)
One of my favorite holes to watch during the U.S. Open is the par-3 seventh at Pebble Beach Golf Links.
It's beautiful, of course, and it's intriguing to watch these pros sweat over which wedge they're going to hit. Many consider the seventh, which played just 109 yards during the first round at the U.S. Open this year, the best short par-3 in the world. It's certainly one of the most photographed golf holes on the planet.
On Thursday it yielded 19 bogeys, two doubles, 25 birdies and a lot of pars. But there have been days when guys have hit 3-irons into the wind, to keep the ball down and under control, but not on this day.
I played it four weeks ago. The pin was back right, next to a sliver of a bunker in between the green and the ocean. I hit a lob wedge (from around 90 yards) that day to the ridge line of the top level, and it spun down to the front of the green. That left about a 40-footer, which is about as long a putt as you can get at Pebble Beach.
The birdie putt almost went in, but I felt fortunate to escape with par. If you've played Pebble Beach, we would love to hear your experience at the seventh. Did you find the ocean, fly the green, leave it short? Is it over-hyped, or do you think it's one tough hole? We'd love to know.