Beyond the U.S. Open: Pebble Beach stories that stir the soul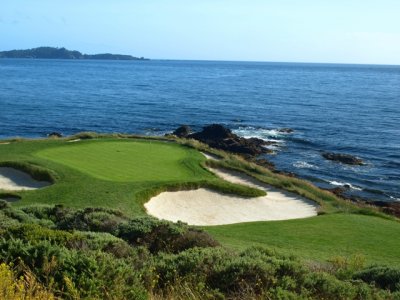 Most of us know about Jack Nicklaus' 1-iron on 17 at Pebble Beach Golf Links during the 1972 U.S. Open or Tiger Woods' runaway victory in 2000, but there's a lot more to this storied venue than the U.S. Open and the professional tours.
Dave Berner, whom you might remember from the TravelGolf.com This Week podcast, has put together a really nice audio documentary on Pebble Beach, regaling the stories that many of us don't know. It's called "Pebble Beach Stories: Three Days from a Golfer's Notebook," and you can download it from the audio books website Audible.com, just in time for Father's Day and the U.S. Open at Pebble Beach.
For example, many believe Pebble Beach is haunted, and the Native Americans from the area hold that the land is sacred (most golfers believe that, too).
We know about the great rounds of the game's best, but we have little idea how much it means to the high handicap golfers who wait a lifetime to realize their dream to play Pebble. Berner, a longtime Chicago radio journalist as well as a writer, tells the story of how one man finally played Pebble and fired a score of 200. He counted every stroke and loved every minute of it.
Or how about the woman who lost her wedding ring when her golf cart and bag, which contained her jewelry, fell into the ocean? She got it back because a pro shop employee was a licensed diver and kindly retrieved it for her.
"I wanted to capture of the spiritual connection golfers have with Pebble through the stories of the place – not necessarily PGA or USGA stories – but just the stories and the legends from the caddies, workers, everyday greens fee payers," Berner said.
Berner, who narrates with a pleasant Charles Osgood-like meter, spent two full days doing on-site interviews as well as several months of research and a week in the studio. The documentary isn't long, but it's packed full of interesting and unusual tidbits.
To download Berner's Pebble Beach documentary, or listen to a sample of the program, click here.
1 comment
I had no idea most golfers believe it's haunted. Very interesting. Nice to know a little history on the course I'll be watching for the next few days.
06/17/10 @ 12:47
Comment feed for this post
Leave a comment