A visit to The Oven confirms Nike Golf's commitment to winning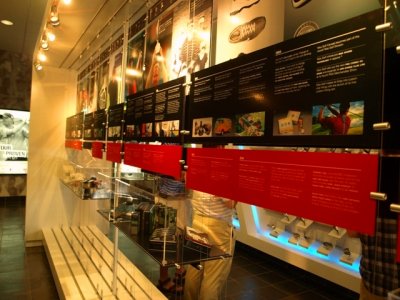 If you've been watching golf on TV lately, you've undoubtedly caught one the commercial spots depicting the mischief of Nike Golf's Tour players at The Oven. You might also be wondering exactly what is The Oven, and why are Stewart Cink and Lucas Glover serving coffee and donuts from their major championship trophies?
Well, this past week Nike Golf brought in a few journalists to Ft. Worth, Texas, during the Crowne Plaza Invitational at Colonial (which we also attended, courtesy of Nike Golf) to give us an inside look at The Oven, the company's state-of-the-art research and development center for golf clubs. The Oven ? Nike Golf's answer to the parent company's Innovation Kitchen at Nike headquarters in Beaverton, Ore. ? also serves its stable of highly successful tour players.
Open since 1992, the near 50,000-square-foot facility has come a long way in Nike Golf's short history of producing golf clubs. (Above photo at The Oven is wall display illustrating Nike Golf history.) Recent additions include an expansion of the building with new offices and auditorium as well as an extensive outdoor short-game area.
The Oven operation is headed up by respected industry veteran Tom Stites, whose former company, Impact Technologies, designed and created golf clubs for many of the game's biggest names until Nike Golf brought Stites and his team onboard. Stites' original staff is still in place, and their passion for what they do was evident from the tour they gave us at The Oven.
Any doubts about Nike Golf's commitment to building quality golf clubs were soon dashed during this tour. Inside we saw millions of dollars committed to testing, engineering, machining, research, product development and one thing that sets them apart, according to company officials, the grind shop.
The grind shop is where Nike Golf basically creates works of arts, painstakingly carving raw forgings into clubheads that match the needs of specific tour players. Those creations not only inspire, but are also replicated for the consumer market as well.
I also got the impression this is a place, as the commercials might suggest, where tour players such as Cink, Glover, Justin Leonard, Anthony Kim and yes, Tiger Woods, like to hang out. The hitting bays, the putting lab and the outdoor short game area see a lot of traffic from Nike Golf's playing pros, who give plenty of input into product development.
Indeed a decade ago, Nike's commitment to golf was certainly weighted on the marketing side. After a visit to The Oven, and seeing that Nike players have 401 wins worldwide and counting, it's obvious that's not the case anymore.