Golf doesn't get much better than Dancing Rabbit in the springtime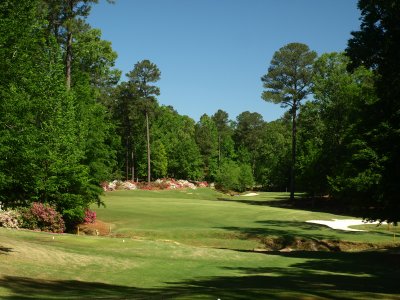 Springtime at the Dancing Rabbit Golf Club at the Pearl River Resort in Choctaw, Miss., might not have the same ring to it as springtime in Augusta, but it's a pretty fair substitution for the masses who will never have a chance to play at the home of the Masters.
Let's see: Rolling fairways framed by towering Southern pines? Check. Flawless bentgrass greens? Check. Colorful blooming azaleas? Yep, they got that, too, and much more at Dancing Rabbit, which was built on the ancestral land of the Choctaw Indians near Philadelphia, Miss., a little more than an hour from Jackson. Crafted by Tom Fazio and Jerry Pate, the design of both courses is pretty fair as well.
Sunday, on a perfect spring day, I had the opportunity to play all 36 holes. Sandwiched around a tasty lunch of seafood gumbo at Dancing Rabbit's Old South clubhouse, it was pretty much a perfect golf day. It seemed like every hole was more picturesque than the other. And you have to be on your game here. Being able to work the driver is a must.
Dancing Rabbit's Azaleas Course, as you might imagine, really does rival Augusta National in its floral presentation. And the doglegs and elevation changes give it that feel as well.
The Oaks Course at Dancing Rabbit is a little more open off the tee, but the holes are just as enjoyable with babbling streams, natural rock formations, and ponds cut into the hills and around greens. It's no wonder that both courses rate among the very best in the state and among the top public venues in the country on most major magazines' rankings.
Dancing Rabbit and the Pearl River Resort with its two casinos, hotels and excellent restaurants, have arrived as a golf destination. The word is out, and pros around the country are bringing their groups and club members as packages here are encouraged and affordable.
And as I was reminded tonight, this is one of the few destinations in the country where you can stay at the clubhouse. (Sort of like Pebble Beach on a slightly smaller scale, right?) Accommodations are outstanding, perfect for small groups or you can stay at one of the resort's two hotels. It's hard to go wrong either way.
1 comment
Comment
from: Buddy Songy [Visitor]
Just spent an awesome two days at Dancing Rabbit Golf in Philadelphia, Ms...had great fun playing golf, gambling and eating at Miko Rest...the hospitality, incredible scenery, awesome layouts and those fine bent grass greens made Dancing Rabbit a unique and enjoyable experience....The Azaleas course felt like playing Augusta and the Oaks layout was fun and challenging...My golf group makes this trip twice a year and appreciate what Mark Powell and his staff do to make us feel welcome...its a no-brainer especially being only 3 1/2 hrs away from BR!!
04/27/10 @ 14:24
Comment feed for this post
Leave a comment