Happy Birthday, Jack Nicklaus, and happy anniversaries, too
It's hard to believe that Jack Nicklaus just celebrated his 70th birthday. Doesn't it seem like yesterday when he won the Masters?
Well, it's been 24 years since Nicklaus won his last and 18th major. The Golden Bear was 46 years old that historic week at August National, younger than I am now.
Forty-six seemed so old, too, especially considering I was just 25 at the time. Now, I don't think we would be that surprised if a 46-year-old won the Masters, considering Kenny Perry, had he not choked away the lead last year, would have won it at age 48.
Nicklaus came out of left field, really. He shot 69-65 (including a final-round back-nine 30) on the weekend to edge out perennial bridesmaids Tom Kite and Greg Norman by one stroke.
Soon after, Nicklaus would help anchor the new senior tour. Last week, Nicklaus teamed up with old nemesis Tom Watson to win the Wendy's Champions Skins Game at Royal Kaanapali on Maui.
I didn't become a full-time golf writer until the early '90s. So my first one-on-one interview with Nicklaus came at 1996 PGA Seniors' Championship at PGA National Resort in Palm Beach Gardens, Fla. The tournament was played on the Champion Course, which Nicklaus designed. It's also where the Honda Classic is played today.
I caught Nicklaus just after he finished his round. I don't remember where he stood in the tournament that day, but as far as I knew he wouldn't be available at a press conference. I introduced myself and proceeded. He patiently gave me thoughtful answers, even to the questions about the difficult "Bear Trap" holes. I don't ever remember feeling like he was distracted or he had some other place to be.
At the end of the interview, he put his hand on my shoulder and asked, "Is that all you need, Mike?"
Wow, the greatest golfer of all time remembered my name.
Obviously, I've never forgotten that moment. Over the years, I've done several interviews with Nicklaus, most of them about his second career in the golf course design business. I've heard the criticisms from others ? that he's arrogant, that he's stubborn, that all his courses play the same. Everyone is entitled to their opinion, but I've never had anything but honest and respectful exchanges with Nicklaus.
Recently, someone told me that he asked Nicklaus what his dream foursome would be. He figured Nicklaus would list guys like Arnold Palmer, or Gary Player or George Bush.
"I'd have to make it a fivesome," Nicklaus apparently told him. "Because I'd have to include my four sons."
Indeed. His is a very close family.
Of course, Nicklaus also has a special reverence for wife Barbara, who has been the source of his strength over the years and kept him humble. This year, they are celebrating their 49th wedding anniversary. And somehow, I believe that milestone is more significant to Nicklaus than his 70th birthday or even his last major.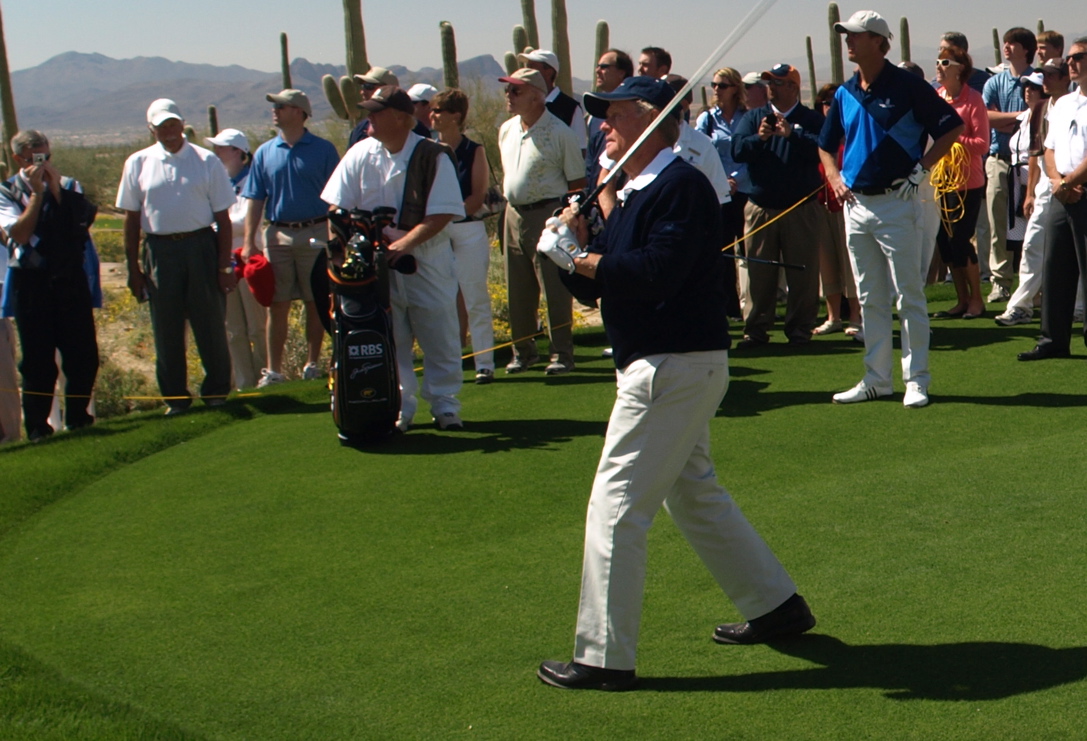 Shown here during the grand opening of the Ritz-Carlton, Dove Mountain in Marana, Ariz., Jack Nicklaus and son Jackie show how to tame the Golden Bear's layout. (Mike Bailey/WorldGolf.com)
2 comments
Hi,
I have passion for golf, thats what tumbled me on to this blog.
01/22/10 @ 05:47
Though not much difference in golfing talent, there's enormous difference between Mr. Nicklaus at #1 and Mr. Woods at #1. Hoping the next wave can capture some of the former magic.
01/23/10 @ 05:21
Comment feed for this post
Leave a comment