Accenture champion Geoff Ogilvy helps Ritz Carlton, Dove Mountain break in 2010
What a difference a year can make. Last year, at this time, players were preparing to the play the WGC Accenture Match Play Championship at the brand new Jack Nicklaus-designed Ritz-Carlton, Dove Mountain in Marana, Ariz. Since then the golf course has been tweaked, and the Ritz-Carlton resort is fully operational.
Last year, nobody really knew what to expect, and at the end, there were a few players who complained about the Bear's greens and other design characteristics of the near 8,000-yard golf course. One guy who really wasn't moaning was Scottsdale resident Geoff Ogilvy, who dusted off Paul Casey 4 and 3 last year to win the event for the second time.
Fresh off his win at the season-opening SBS Championship last week in Hawaii, Ogilvy made the short trip down to Dove Mountain Tuesday to address the media. After the obligatory how-is-the-tour-gonna-do-without-Tiger-Woods-questions, Ogilvy addressed his own career and the changes at the Ritz-Carlton Dove Mountain.
Answering queries about his second-half slide last year after a fast start, he said his plan this year was to put less pressure on himself and let the game come to him. And though he really hasn't had much time to assess the changes to the course and the addition of the newly completed hotel and spa, it was evident that Ogilvy was looking forward to defending his championship here Feb. 15-21. That is, if his wife Juli has given birth yet. Her due date for the couple's third child is Feb. 14.
"I'm hoping I don't have to come here with a beeper," he said.
This is why he'll be taking a break from golf between now and the Accenture, which pits the top 64 available players in the world in a match-play extravaganza.
Like many players, Ogilvy is also looking forward to staying at the new Ritz-Carlton resort, which might be one of the finest in the company's system. Opened less than a month, the resort is everything it was cracked up to be ? fantastic spa, state-of-the-art guest rooms, incredible dining and impeccable service. Plus, it's right on property, which makes that very attractive to the competitors, who will be given the option to stay at the hotel during the week.
Ogilvy is also looking forward to seeing the changes on the course. Although he hasn't seen the golf course since Nicklaus' group modified many of the holes, he is aware of the changes, which include re-sloping some of the greens and moving some of the fairway bunkers. All-in-all, Ogilvy believes the greens changes will allow for faster greens speeds and more pin placements. And that, he said, will just make the tournament that much more interesting for players and fans alike.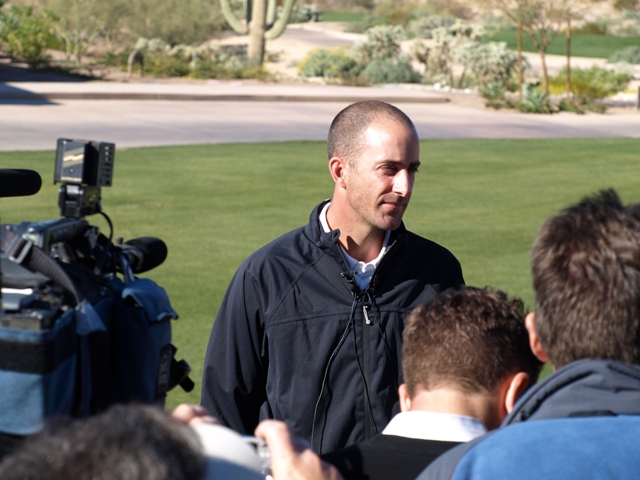 Geoff Ogilvy answers questions at the Ritz-Carlton, Dove Mountain.
4 comments
I agree with Ogilvy about the greens changes-- should make for some interesting game play!

---

Joy Price
Hole In One International
http://www.holeinoneinternational.com
01/13/10 @ 08:58
I like Geoff Ogily. He has such a relaxed attitude and comfortable looking swing I am surprised he hasn't won more. Maybe this year is his year! I might have to change my Major predictions! :-)
01/13/10 @ 12:53
Hi,
Geoff Ogilvy has come a long way with his belief in himself, and his temprement, which is evident in his recent wins. I don't believe the changes to the bears course will present that much more of a challenge to these guys, not saying it won't at all, but I think Geoff will present his best game regardless.
01/16/10 @ 23:16
PGA: Top Five Reasons Why Geoff Ogilvy Won at CA Championship

# Led the field in Greens in Regulation
# Carded only one bogey in the 72 holes
# Sand saves were right on target
# Chipped well
# Par putts were valuabl

Geoff Ogilvy is my #1 Cobber!
01/18/10 @ 02:06
Comment feed for this post
Leave a comment