Fun golf: TPC Scottsdale lives up to my pregame hype
Finally, after six or eight trips to the Valley of the Sun, I got to play the TPC Scottsdale. It was well worth the wait.
You often hear that certain PGA Tour courses are overrated, but I don't think the Jay Morrish-Tom Weiskopf-designed TPC Scottsdale falls into that category. While it doesn't have the stunning natural topography of a We-Ko-Pa, for example, as a golf course, it's pure fun.
Having watched the FBR Open for many years on TV, it was a blast to finally be able to hit a shot on the soon-to-be amphitheatre par-3 16th as they were building the grandstands that will enclose the hole and host some 25,000 raucous fans. But more than that, each hole had its own identity, conditions were immaculate and the greens were as good as any I've played in the Phoenix-Scottsdale area.
I particularly enjoyed the short par-4 17th. I tugged my drive left about pin high on the other side of a water hazard that guards the green. My partner (in a two-man scramble) pitched it about 30 yards over the water to about five feet to a tight pin. Birdie. It wasn't as cool as Andrew Magee's historic and unusual ace on the same hole at the 2001 Phoenix Open, but pretty cool nonetheless.
The FBR Open is dubbed "the greatest show on grass," but honestly, playing the course is probably even more fun than watching the pros. It's not super difficult, but it's no pushover either. It's real fair golf. Nothing tricky, and everything is right in front of you.
This was one time that when it was over, I was truly disappointed that we couldn't go out and play it again. I can't wait to return someday.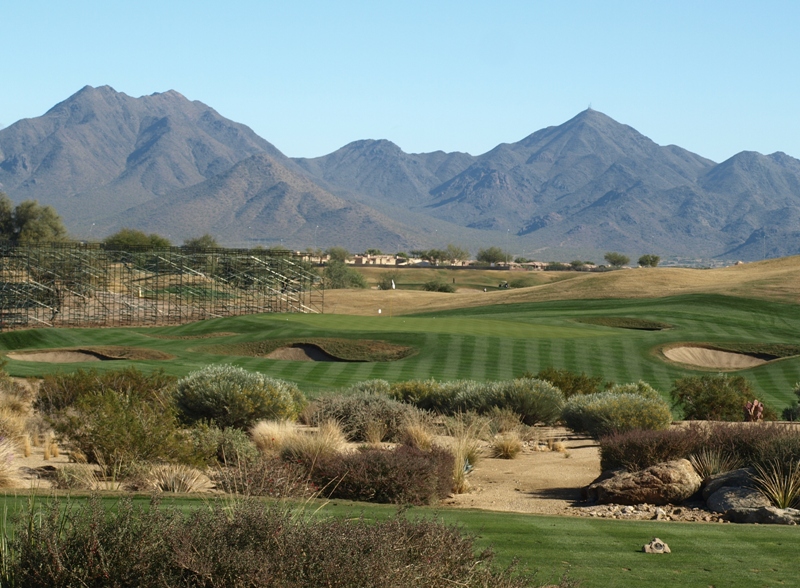 In a couple of months, the 16th at the TPC Scottsdale will be completely enclosed for the FBR Open. (Mike Bailey photo)
1 comment
Comment
from: Tom Karalis [Visitor]
Sorry Mike - but I have to respectfully disagree. My 4some played the TPC last year and the year before that and both times we were disappointed. Greens + fairways in terrible shape (granted we played in July) and I was disappointed to see homes (condos) just a few feet away from the fairways (hole #1). Some great holes (Par 3 + Par 4 risk /reward). It is OK to play at least once to say you have played / walked where the Pros do, but there are way to many other choices in the surrounding area that I would recommend before TPC (WeKoPa, Talking Stick, Troon, GrayHawk, Las Sendas, etc). just my 2 cents and thanks for the great articles.
TK
12/10/09 @ 11:18
Comment feed for this post
Leave a comment