TaylorMade's new Penta TP golf ball adds a couple more layers of performance
During my trip to play golf in California last week, I got to try out TaylorMade Golf's new premium golf ball, the Penta TP, which will be launched to the public in the spring.
That's Penta, as in five layers, which are about two more layers than you'll find in most high-end professional golf balls.
So if you're like me, you're probably wondering if five layers are better.
Well, here's the lowdown on why the Penta has five layers: feel, spin, control, launch and distance. Each layer – the outer urethane layer, for example, controlling spin around the greens – is supposed to maximize these five attributes.
The ball is designed to react differently to the five different kinds of shots you hit ? driver, long irons, mid-irons, short irons and wedges. The idea is that the combination will optimize performance with every club in your bag, giving you ideal launch conditions off the driver and irons, the right amount of spin for each club and the precision feel that you need in the short game.
All I can tell you after playing five rounds last week is that the Penta is as good a golf ball as I've ever played. It was definitely long off the tee, and it certainly spun off the irons, but not too much with the wedges. The ball has a nice feel to it, but it's definitely a little on the firm side. It isn't mushy off the putter, but certainly doesn't feel like a distance ball.
Suggested retail is $52 a dozen, putting it in the same range as Titleist, Nike, Callaway and Bridgestone's premium balls. It's a great ball, no doubt, but it will go sideways if you put a bad swing on it. I can attest to that as well.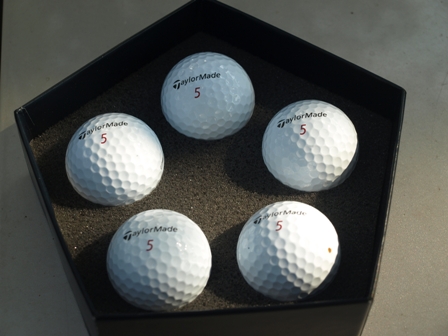 TaylorMade Penta TP