Course marshals at The Bridges Golf Club tops in my book
When I arrived at The Bridges Golf Club in San Ramon, Calif., this morning and was introduced to my playing companions, I knew it was going to be a good day.
The Bridges is a fairly challenging course that just celebrated its 10th anniversary. While it isn't exactly target golf, having a guide to get you around this KemperSports-managed golf course is helpful.
This morning I got three guides, who were decent sticks and even better people. Barry and Dick are both retired from non-golf careers; Craig is in between banking jobs. Most of all, it was apparent they loved golf. Why else would they be course marshals? It can't be the money or the grief slow golfers give you.
We agreed to a friendly wager or two and off we went. These guys gave me the lowdown on every hole – which side of the green to hit, where not to get it above the hole and how far it was to carry every creek, gorge and bush. Some of their advice I followed. When I didn't, like when I tried to drive it over the creek on 16, I paid the price.
I also learned a new game called "Whip out."
"Excuse me," I said when my cart partner brought that one up on the par-3 15th.
Barry explained to me that it's a COD game. In other words, whoever is closest to the pin on the green on a "whip out" hole and two putts or better gets a buck from everybody ? on the spot. If he three-putts, he gives everybody a buck, right then and there, before we go to the next hole.
Barry must have had a feeling. Not only was he closest to the pin, but he made the putt for birdie, which meant more junk and stuff at the end of the round.
The best part of the round was the company. Nobody threw a club, pouted or screamed. It was apparent that these guys just loved the game.
I wound up losing a total of $3.25 to these guys. It was well worth it.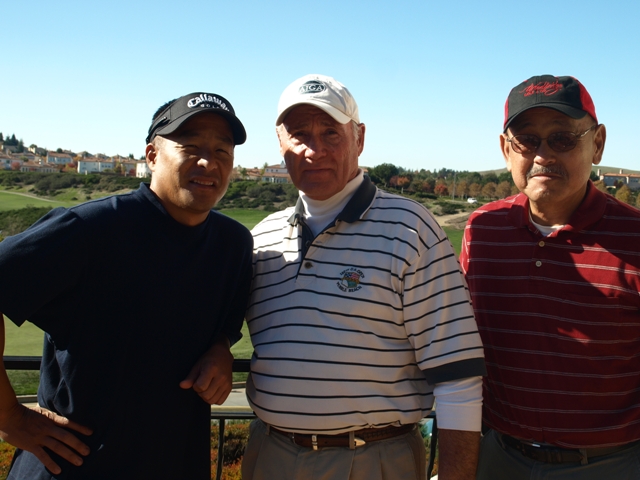 The Bridges Golf Club marshals extraordinaire (from left): Craig Oki, Barry Brunckhorst and Dick Kaneko
2 comments
Comment
from: Paul Anderson [Visitor]
Hi Mike,

I used to live in the Bay Area and enjoyed playing The Bridges. I am back in the UK now but still get their emails. Tough to take when it is getting cold and dark here!

It is certainly a good test and will punish wayward shots. I was just discussing the difference between US and UK pay and play courses with friends this week. I think the US courses are far more accomodating when it comes to getting around the course. They do not let you go out on your own unlike some UK coursesand generally take care of your clubs and buggies.

Sounds like you had a good day despite loosing a few dollars.
11/18/09 @ 05:48
Nothing like great company to make an already excellent round of golf into a truly memorable one! Good for you :)
11/20/09 @ 07:08
Comment feed for this post
Leave a comment