San Francisco First Tee program also a big winner during Presidents Cup
There's an aspect of last week's Presidents Cup that might have gone somewhat unnoticed, so I'm giving it a little attention.
While the U.S. team was busy dusting off the internationals, a new satellite site for the San Francisco First Tee program was unveiled in the area.
As part of the festivities, 14-year-old Jessica Kent was flown to San Francisco with her family. Jessica, you see, won an art contest in the Kids Fore Kids program, sponsored by KemperSports, which manages Harding Park, the host site of this year's Presidents Cup and the main location for the San Francisco First Tee program.
Jessica was the winner of the contest in which kids from First Tee programs sent in artwork depicting golf in San Francisco. As part of her prize, she got to attend a clinic with Nick Faldo and Paul Azinger and meet with San Francisco Mayor Gavin Newsom at a new First Tee facility in inner San Francisco. She also received a pass to walk inside the ropes during Presidents Cup action as well as play golf at the Kemper Sports-managed Links at Bodega Harbour north of the city.
The best part, though, is that both teams signed her artwork, which will be auctioned off at a First Tee dinner on Monday. "I hope we can get thousands for it," said Steve Skinner, CEO of Northbrook, Ill.-based KemperSports.
More importantly, however, the contest brought awareness to the program. And if you're thinking that First Tee programs merely pay lip-service to an elitist sport trying to feel good about itself, think again.
Frank "Sandy" Tatum heads up the San Francisco First Tee program. You might also know him as the former president of the United States Golf Association and also as the man who was responsible for spearheading efforts to renovate Harding Park and bring it to prominence with events like the President's Cup and American Express Championship.
We've all heard how golf can instill values in youth and how those values can transcend into other life skills, but this is more than that. This is about more than growing the game, and you can hear it in Tatum's voice when the 89-year-old attorney and former Stanford golfer speaks about helping kids who live in fear in their own neighborhoods.
"I can't tell you how much this matters to me," said Tatum, who refers to affected areas as "war zone" neighborhoods.
Located on the east side of the city, the new $300,000 Learning Center at Visitacion Valley Middle School is the only facility of its kind in the country. It has a driving range, sand bunkers, putting green and some classroom space. It serves nine different middle schools in the area with bus transportation available to the center. The goal is to get more than 1,000 kids involved.
The hope is, of course, that not only will these kids latch onto golf, but learn other values as well. Most of all, it's about giving them hope, something that is in short supply in many urban areas.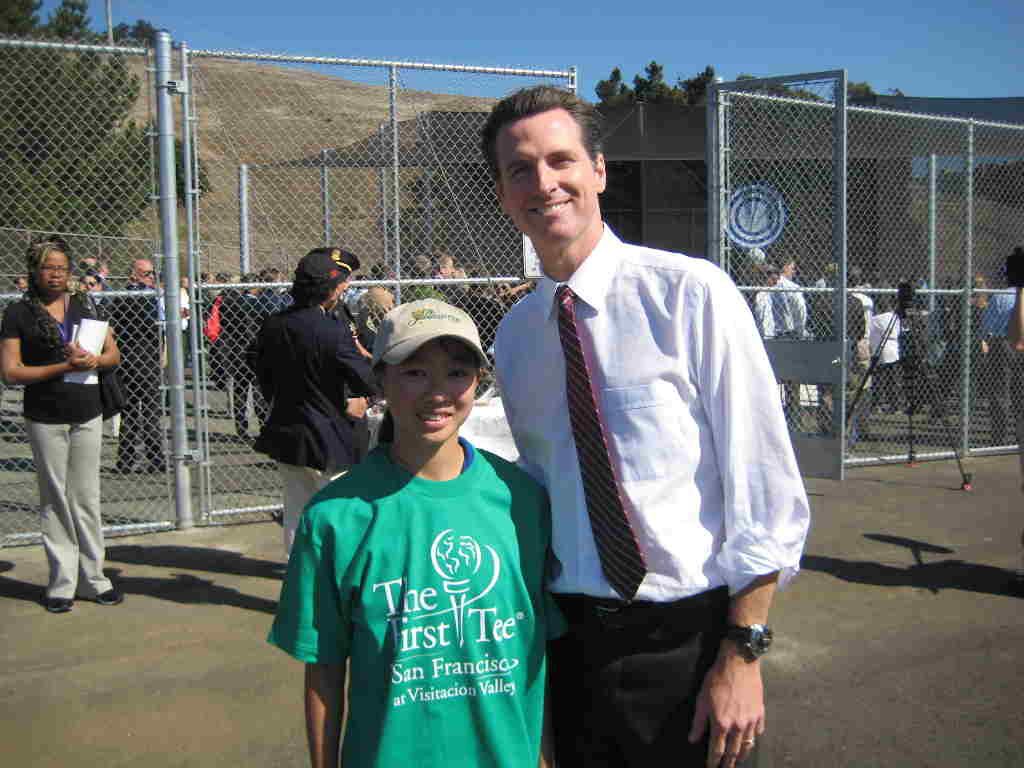 Jessica Kent poses with San Francisco Mayor Gavin Newsom at The First Tee of San Francisco's new learning center at Visitacion Valley Middle School.
1 comment
Comment
from: Jeff [Visitor]
I am glad to see companies support young kids and help inspire them to do great things! Nice job KemperSports and First Tee.
10/25/09 @ 01:00
Comment feed for this post
Leave a comment