Relishing fall golf in the Poconos at the Shawnee Inn in northeast Pennsylvania
The Shawnee Inn at Shawnee on the Delaware, Pa., is a true retreat. It's hard to believe than just 90 minutes away are tens of millions of souls who battle the hustle and bustle in New York City and Philadelphia.
The resort goes back to 1912 when it was known as the Buckwood Inn, and over the years old-school celebrities like Jackie Gleason and Lucille Ball have stayed here. You can fish, kayak, hike, roast marshmallows or just plain relax.
It's also the home to an A.W. Tillinghast golf course, although a few decades ago nine holes designed by another architect were added to bring the resort up to 27 holes. Nevertheless, it's old-style golf set against the Delaware River and fall colors of the hills in the background. It's just cold enough to don slacks and sweaters and light a fire at night. And there are a lot of good holes.
Soon it will be winter here, but for a few weeks, this transition is almost magical.
Football and fall golf – two of my favorite things.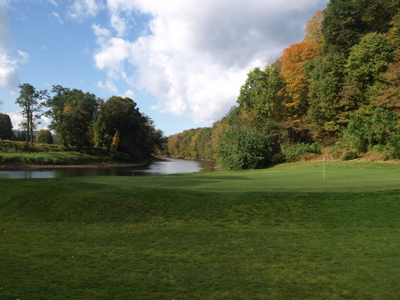 The signature par-3 seventh on the Shawnee Inn Blue Course.