What I'll miss, what I won't from my golf trip to Hawaii
Whenever I'm on an extended trip, I'm usually pretty anxious to get home. This time, though, leaving was a little bit difficult. I mean, we're talking Hawaii here.
Here are five things I'll miss most from the golf trip I just concluded to the Big Island and Oahu:
1. The golf, of course. There are great signature holes everywhere, it seems, but the 15th on the South Course at the Mauna Lani Resort and third hole at Mauna Kea are two of the best postcard holes I've ever seen.
2. The weather. It's warm, but not too hot, even in the summertime. Most places, including luxury hotels, have open lobbies. With the sea breeze, it's quite comfortable.
3. The food. If you like Asian, which includes Japanese, Korean, Chinese and Hawaiian, this is your place. Lots of good sushi.
4. Waikiki Beach. So many tanned bodies, pure white sand, beautiful aqua green water and Diamond Head in the background. One of the best beaches in the world.
5. The people. They call it Hawaiian Time. Folks are pretty laid back here. No one is really in a hurry, especially on the Big Island. Gotta love it.
Five things I won't miss:
1. Gas prices ? about a buck or so higher than the rest of the country.
2. No sporting events on TV at night, unless they're local. (Can't imagine operating a sports bar.)
3. Grocery prices. I spent $6 for a tube of Crest.
4. The flight over and back. Both were packed and long. American Airlines pretty much showed the same lame entertainment on every leg. And on the seven-hour flight back, they only had 3 1/2 hours of it.
5. The rental car line at the Kona Airport. It took me 90 minutes to get my car. (Computer was down.)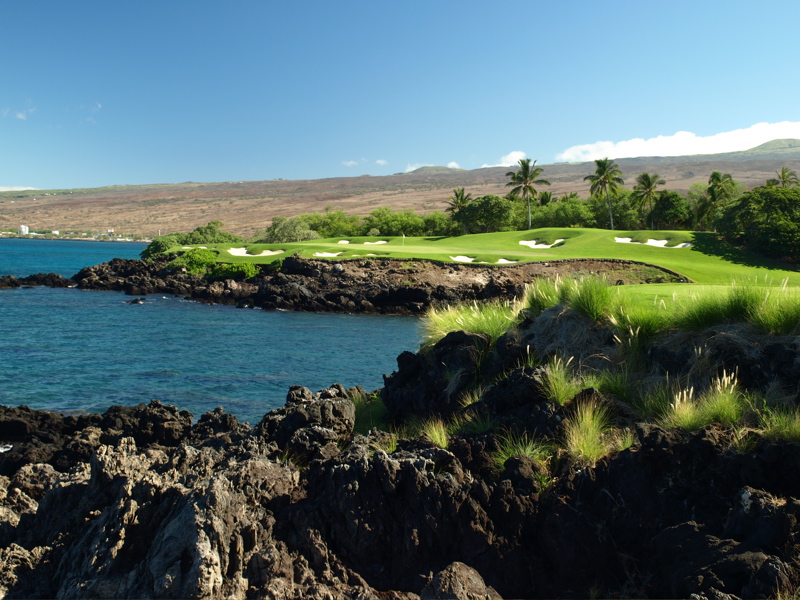 The long par-3 third signature hole at Mauna Kea. (Mike Bailey/WorldGolf.com)
2 comments
Comment
from: Hawaii Resident [Visitor]
Aloha Mike, I'm breathlessly reporting from the field in Honolulu ? today I bought a regular-sized tube of Crest for $2.69 at Longs Drugs at Ala Moana Shopping Center. (I can send you my receipt if you like). $6! That?s not typical, even for here.

As for high gas prices so true. But at least traveling distances are much less here (or so I keep reminding myself). :-)

08/31/09 @ 18:47
Comment
from:
Mike Bailey
[Visitor]
Next time, I'll know to go to Long's. The offending store shall remain unnamed, although I can tell you the $6 price tag was for those who did not have a club card.
09/01/09 @ 23:44
Comment feed for this post
Leave a comment