Oahu and the Big Island: They're night and day, but both have worthwhile golf
After spending my first 24 hours on the Hawaiian Island of Oahu, I've come to this fairly obvious conclusion: Vacationing on Oahu isn't better or worse than being on the Big Island; it's just different, really different. It really depends on what you want out of a vacation.
The Big Island of Hawaii, where I spent the previous week, is uncrowded, unhurried. Heck, the airport doesn't even have walls, though somehow security manages to route you onto the right corrals.
Landing in Honolulu last night almost seemed like I returned to California. Honolulu is a bustling American city, with all the traffic, crowds and parking challenges mainland cities have.
It also has all the conveniences ? plenty of shopping and McDonald's, tons of great restaurants, nightclubs, huge hotels like the Hawaii Prince Resort Waikiki (where I'm currently staying) and an energy that reminds me a little of Las Vegas.
Today, I played the two courses at the Turtle Bay Resort – the challenging Arnold Palmer Course and the more forgiving and very playable George Fazio design there. (Turtle Bay Resort was the setting for the movie Forgetting Sarah Marshall, by the way.)
To get there, you have to leave Honolulu and head north. It takes about an hour and 15 minutes without traffic and longer coming back as the beachgoers are leaving the North Shore.
It's well worth the trip. Both courses are good. In the past, the resort has hosted Senior Skins, the LPGA and Champions Tour.
The Palmer Course, however, isn't your typical Hawaii Course. There's a great view of the ocean on the par-4 17th, but for the most part, this is a bunker-laden test cut through forests of ironwood trees, wetlands and lagoons.
Perhaps that it is different is one of the reasons a lot of the locals like it.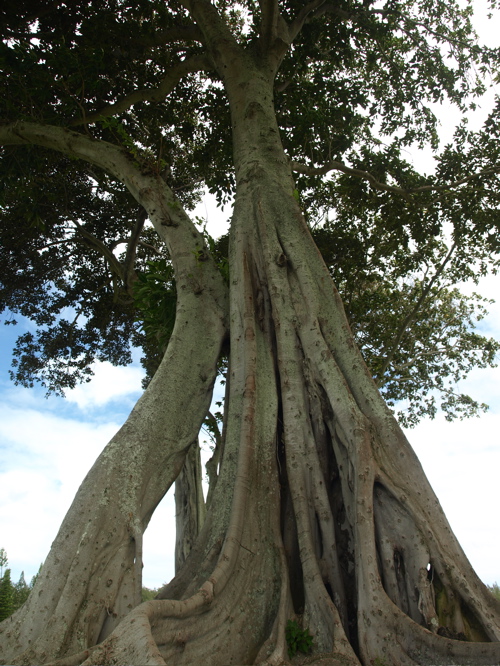 This giant Banyan tree is one of the unique obstacles you'll find on the Turtle Bay Palmer Course. (Mike Bailey/WorldGolf.com)
No feedback yet
Comment feed for this post
Leave a comment