Having a hot time playing golf in Western Canada
Most Americans, when they travel to play golf in Canada, figure they're going to need a little outerwear ? even in the summer.
Not on this 10-day trip through Alberta and British Columbia. It was so hot that I was looking forward to the relief I was going to get when I returned home to Houston.
Record highs everywhere prevailed. In the desert-like region of Kamloops, B.C., for example, it was 39 degrees Celsius while playing Tobiano Golf Club and nearly that hot the next day at Talking Rock Resort. That's 102 Fahrenheit for us Yanks ? 102!
We didn't get much relief in Vancouver either. My group played the Canal Course at Northview Golf & Country Club, where the PGA Tour's Greater Vancouver Open used to be held. With water everywhere on this flat Arnold Palmer design, not only did it look like a Florida course, but it felt like one, too, with temps in the high 30s.
Yes, Western Canada has gone through a record heat wave. In truth, however, this part of the country is normally fairly warm this type of year, contrary to many Americans' perceptions. Much of Vancouver, for example, has a 10-month season, and many courses are open throughout the year.
"We need to get the message out that we're not all igloos and ice hockey up here," said Dean Larsen, general manager at Furry Creek G&CC, just north of Vancouver on the Howe Sound.
Yeah, but no need to overdo it, though. Next time, 29 instead of 39 would do just fine, thank you.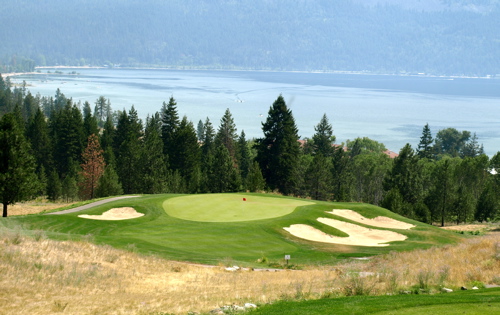 Despite being next to a lake, it was plenty hot at Talking Rock Resort near Kamloops this week.
No feedback yet
Comment feed for this post
Leave a comment