Planes, trains, automobiles and golf carts in Western Canada
For a week now, I've been traveling in Western Canada. It was supposed to have been a golf trip on Via Rail's flagship Canadian train from Edmonton, Alberta to Vancouver, B.C., but workers at Via Rail had another idea when they went on strike last Friday.
So much for the train; hello van.
Fortunately, the strike lasted just a couple days as both sides, figuring in this economy that a stoppage of service during peak season was potentially disastrous, agreed to binding arbitration. So I got to pick up the Canadian in Kamloops, B.C., and take it overnight to Vancouver.
I haven't ridden many trains ? never in North America – so this was a relatively new and exciting experience for me. I have a sound soother at home that I sometimes set to the clickety-clack sound of the railroad, so I figured I would sleep OK, and I was right.
There's nothing like waking up a few hundred miles away from where you started. It's sort of like magic, really (not quite Harry Potter, but cool nonetheless). And unlike plane travel, you can walk around, grab a tea and even take a shower . And you don't have to wait for the engineer to turn the seatbelt sign off.
Perhaps the coolest feature of the Canadian is the Park Car. Also known as the Dome Car, you step up into a large cabin covered by a dome of glass that allows for a 360-degree view of your surroundings. It's almost like being the engineer (we all had that fantasy growing up) in that you can see what's in front of you.
The dining car is also a pleasurable experience. If you're traveling by yourself, or even with another, you'll most likely to gain dining partners. In my case, it was a wonderful couple from Manitoba, who were somewhat new to golf and understandably curious about the golf experiences we had so far.
I told them the relatively new Tobiano in Kamloops was all it was cracked up to be, both in terms of its moonscape beauty and shot value. Talking Rock Resort and Sun Rivers were also good in Kamloops. Jasper Park Lodge in Alberta (see previous post) is a must-play for any avid golfer who plans a golf trip into Canada. And the Edmonton area's Northern Bear, one of three Jack Nicklaus signature layouts, was also a strong test.
There's talk that Via Rail will start offering organized golf packages. With stops in Jasper and Kamloops along the way from Edmonton to Vancouver, it could make for a very unique experience.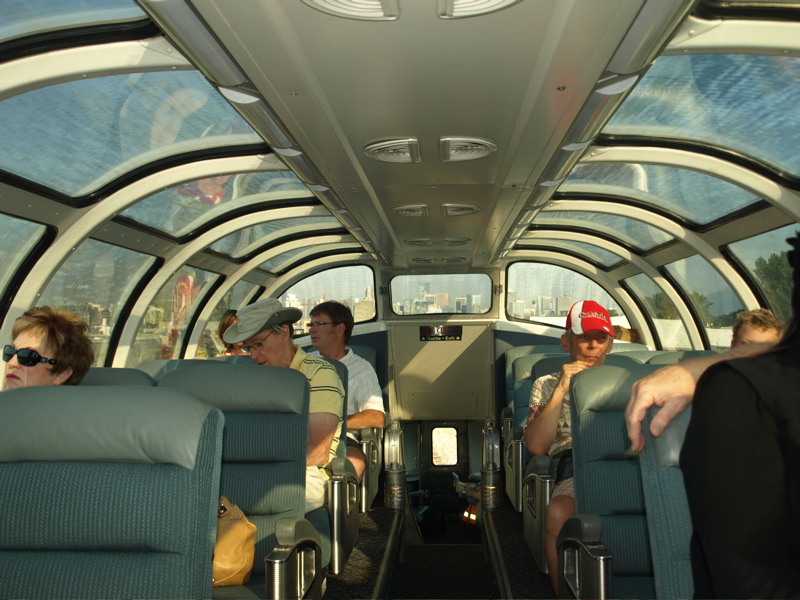 Via Rail's Park Car as the Canadian pulls into Vancouver.