Jasper Park Golf Course in Canada is a perfect union of nature and man
You often hear terms thrown around like classic courses, masterpiece, etc. , but very few courses actually live up to that kind of hype. Stanley Thompson's Fairmont Jasper Park Lodge Golf Course is one of those courses. And it's at a world-class resort, the Fairmont Jasper Park Lodge in Alberta, Canada, in Jasper National Park.
This is truly a course you could play every day and never get bored. In fact, I'm a little jealous of the 200 or so locals who just pay less than $2,000 annually for their memberships.
Sounds like a great deal, eh? Well, it is, and it's limited to people who live in Jasper. The reason for that is obvious. Any rich guy who plays golf and knows anything about the course would gladly pony up a couple of grand to have membership privileges here. In fact, my guess is there would be all kinds of folks who live in Edmonton and Calgary, which is just a few hours away, who would join at that rate.
So the bargain is reserved for those who are willing to stick out the long winters for a short golf season on one of the world's great tracks.
And what makes it so great? All the holes are memorable in their own right, but the views of the mountains and deep blue water are matched by very few places on earth.
By the way, it's the minerals from the rock silt created by the moving massive glaciers that make these lakes so blue. The fine powder, which is suspended in the water is reflected by sunlight. The process occurs over centuries.
We got to visit one of the local glaciers, next to Mount Edith Cavell, which our guide informed us is disappearing at a rapid rate. She shared photos that showed the rock we were standing on was covered by hundreds of feet of ice just a decade or so ago.
Global warming indeed.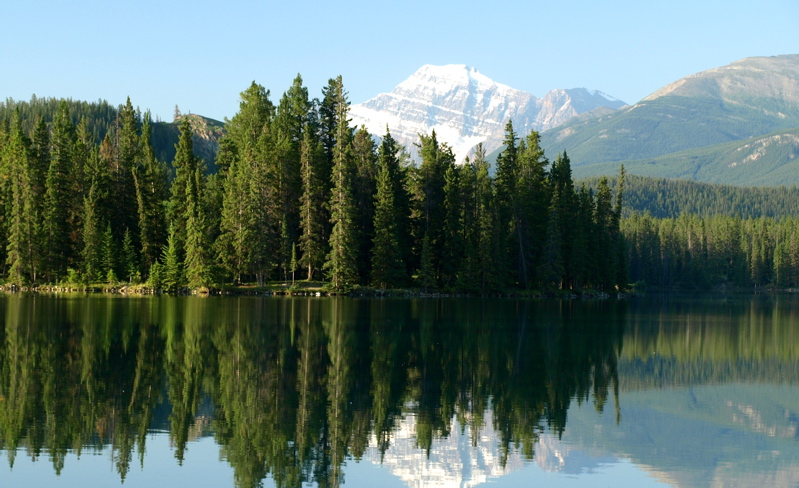 The beautiful blue glacial lake left of the 13th tee at Fairmont Jasper Park Golf Course in Alberta, Canada.