Satellite subscribers can get plenty of bonus coverage of U.S. Open golf this week
If you're planning on being glued to the television set this week for the U.S. Open at 7,426-yard Bethpage Black and you're a DIRECTV subscriber, then you should be in heaven.
DIRECTV is offering a four-in-one screen HD Mix channel and interactive service all four days. In essence, you can get three extra channels in addition to ESPN?s coverage on Thursday and Friday and NBC Sports' broadcast on Saturday and Sunday ? all available in HD.
Mix Channel viewers will get the home network channel and three special channels. One extra channel will follow a group of golfers, one will focus on particular area of the course and one will provide live updates, highlights and interviews. Each channel will be offered in both standard- and high-definition and are fully produced with their own production crew and announcers. Customers with interactive receivers can view all four channels in the Mix and use their remote to listen to any channel?s audio or tune directly to the full-screen channel. The Mix also features a real-time leader board.
The interactive services are available by pressing the red button on the remote. It includes a look at the top five leaders; the full leader board, with the ability to select any golfer for in-depth, hole-by-hole stats; a five-question, daily trivia contest on the history of the event; and a ?Tune To? menu item that allows the viewer to tune directly to the Mix Channel (701) and any one of the four channels (702-705), including the main network feed.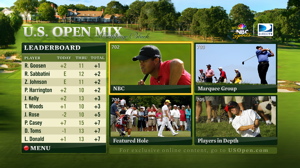 DIRECTTV subscribers can get bonus coverage of the U.S. Open this week.