Catching a sneak peek of the new Old American Golf Club at The Tribute north of Dallas
Recently, I had the pleasure of playing The Tribute Golf Club in The Colony, Texas (north of Dallas), which pays homage to great Scottish courses across the Atlantic.
Designed by Tripp Davis, The Tribute will let you play all those run-up and wind-cheater shots that you don't get on most American courses. A review will be published soon on GolfTexas.com.
Part of the trip was also to check out what is now called the Old American Golf Club at The Tribute. The course is pretty much grown-in and should open late this year. Although it will get its own clubhouse, it's located right across from the original course at The Tribute.
Owners Matthews Southwest and Wynne/Jackson commissioned Davis and PGA Tour player/Ryder Cup team member Justin Leonard to design the second course.
The Old American course doesn't copy holes like the original course at The Tribute does. Instead, Davis and Leonard borrow design characteristics from the great architects who came over to this country a century ago and designed such courses as Shinnecock Hills, National Golf Links of America, Prairie Dunes and Crystal Downs.
Below is a photo from The Old American Golf Club. Notice the bunkering with the ragged edges and the century-old train bridge that was moved from the Red River on the Oklahoma border.
I'm looking forward to playing it later this year.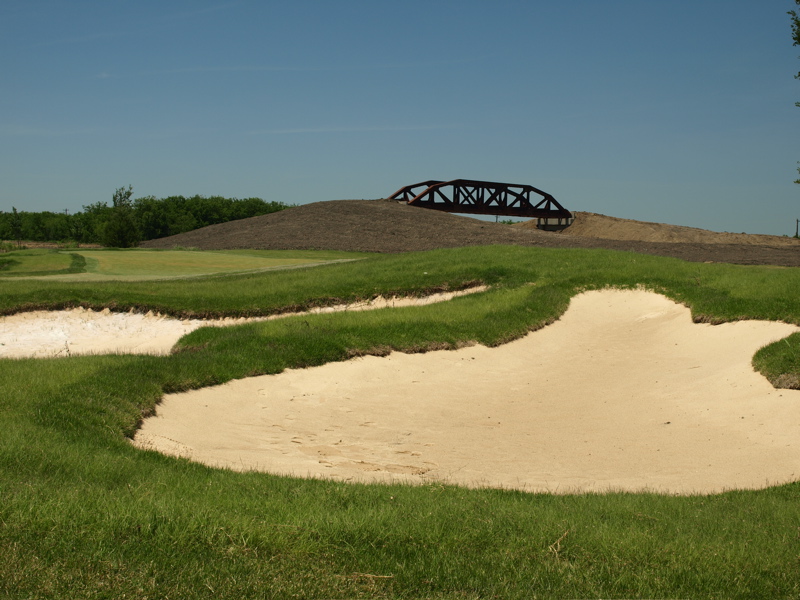 There are plenty of ragged-edged bunkers at the Old American Golf Club at The Tribute.