Golf, life around Lake Tahoe is a spiritual experience
This is the part where if you're an agnostic, you connect with God anyway. You try to figure out your place in the universe, ponder what's really important in life and yearn to slow down. How could you not as you drive around the western shores of Lake Tahoe?
Wednesday morning, I made my way from Harrah's Hotel and Casino on the south shore to Truckee, Calif., to play the much-heralded Old Greenwood Golf Club and aptly named Coyote Moon. Along the way, you're told to stop at Emerald Bay, which Maile said is the second most photographed spot in the world.
Maile, by the way, is a vibrant young lady who works at the Red Hut Waffle Shop on Lake Tahoe Blvd. This little greasy spoon diner is a wonder of the universe, too, offering perhaps the best breakfast this side of the Mississippi. They serve fresh raspberries or strawberries with your waffles or an awesome sausage gravy over biscuits, served hot in minutes with any style eggs and killer hash browns. It was a perfect start to the day.
Meanwhile, after spending too much time at the Red Hut, I made my way to Old Greenwood, which I had never played before. Excellent Jack Nicklaus tract with tricky undulating greens and a good variety of holes. After a quick morning round, it was off to Coyote Moon, where the coyotes howl in the daytime as well as the night. We saw a few coyote pups as well on our way to the 13th, a spectacular par 3 with a 200-yard drop.
Dinner was in Truckee last night. For some of us, that meant the Dragonfly, a relatively new restaurant that features Cal-Asian cuisine. I'm partial to Asian food anyway, and this selection of soups, sushi and entrees, which can change from week to week, was excellent.
The most photographed place in the world, by the way, is the Great Wall of China, according to Maile. Gotta think she's got that one right.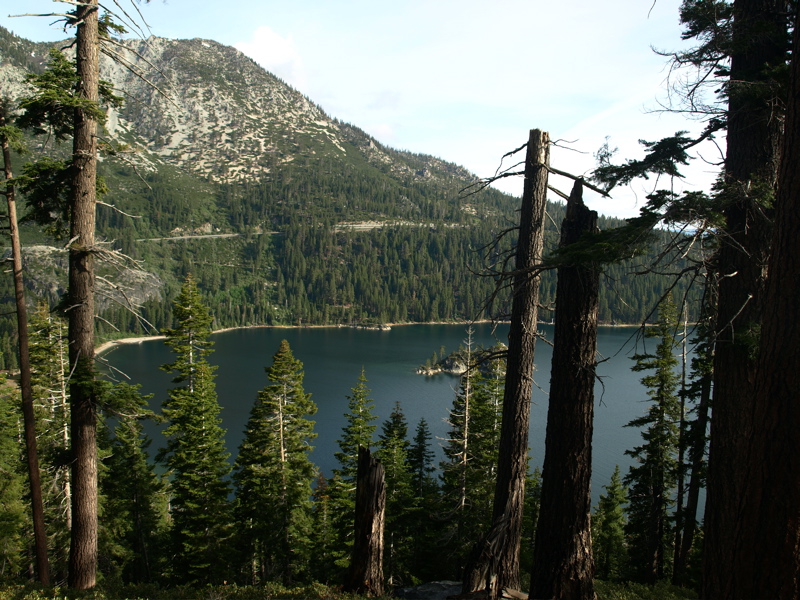 Emerald Bay on Lake Tahoe: Second most photographed place in the world.
2 comments
Comment
from: DSIMPSON [Visitor]
Hey, Mike. I think this is one of the best non-golf pictures from a golf course I have ever seen. How can one NOT gather their thoughts while enjoying the pristine beauty of these surroundings ?!! I think this could definately cool me down after making double or worse !!! Keep up the great work. I enjoy your blogs.
06/05/09 @ 16:22
Comment
from: DSIMPSON [Visitor]
After further review; I guess this was not taken from a golf course !! What the heck though. It is still a great pic !!!! Put it on a post card.
06/05/09 @ 16:24
Comment feed for this post
Leave a comment