Forget Augusta National, head over to Sage Valley
Want to play Augusta National but have been denied? Take matters into your own hands. That is exactly what Aiken, S.C., businessman Weldon Wyatt did after being snubbed for membership at Augusta National.
Since they wouldn't let him play at Augusta, Wyatt pretty much told Augusta to "stuff it" and showed them that he could build just as nice of a golf course. In fact, the motto printed on the scorecard at the exclusive Sage Valley Golf Club in Graniteville, S.C. states "I always thought everyone should have another chance to get even."
Wyatt and his son Tom set out to create their own personal playground, a mere 15 miles from Augusta National, by building a bigger, better, more beautiful golf course that revivals this country's most famous golf venue replete with rolling terrain, perfectly manicured fairways, SubAir drainage systems under the greens, stately pines, and undulated greens, not to mention thousands of azaleas and dogwood trees and caddies with white jumpsuits. A Tom Fazio designed course playing 7,344 yards from the back tees, Sage Valley looks and feels like Augusta National.
I had the opportunity to play there yesterday and I will have to say that it ranks as one my best golf experiences ever. From the moment you pull through the gates, until you leave, you feel like you have died and gone to golf course heaven, not to mention that the food is free at the half-way house, playing golf really doesn't get any better than Sage Valley.
I hate to say that it is more beautiful than Augusta (I have played there too and that was always my favorite), but I will have to say that I think Sage Valley has out-done Augusta in almost every way. In fact, my friends and I gave up the opportunity to go to the Master's to watch the practice round just to play golf at Sage Valley. There was not even a debate of whether or not we should go to the Master's or play Sage Valley. We all chose Sage Valley. For Weldon Wyatt, revenge is sweet.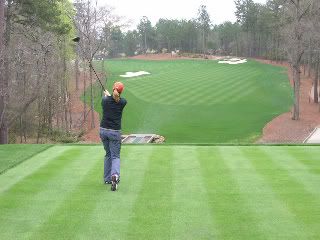 Karen tees off on Sage Valley's par-4 11th hole named Dogwood.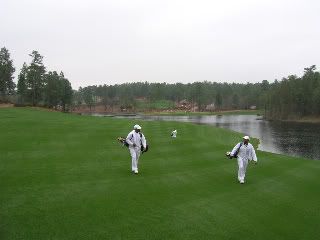 Caddies at Sage Valley walking up the par-4 3rd hole Cypress.
9 comments
Comment
from: Donald Ritter [Visitor]
Back off, Shanks! She's married.
04/09/08 @ 10:11
Comment
from: Brad King [Visitor]
Agreed, I stayed in the golf digest cottage last Saturday night and played 18 holes on Sunday before heading to Augusta. I have played lots of high end golf and Sage Valley is right there with the best. I liked it so much my membership application is going in this week!

Brad in RI
04/13/08 @ 20:05
Comment
from: rednek [Visitor]
If snobery is your game, you'll find it here. Wyatt, a former trailer salesman, has put out all of the gaudy trappings, including tacky speakers across the couse that play "Amazing Grace" at sunset.
06/04/08 @ 00:16
Comment
from: Aaron Carson [Visitor]
I have had the pleasure thru Textron to walk and play the course. It is truely "A walk unspoiled". It was the most beautiful course and the acommidations have never been surpassed in my golfing career.
11/26/08 @ 07:13
Comment
from: Dr. Gabriel Polo [Visitor]
Played at Sage Valley last week. Wow, what a treat!!! Beautiful course, you can definitely put it up to Augusta National anytime. I would skip The Masters to play there any chance I get. I would have to say its probably the best golf course I have to played to date...
04/09/09 @ 13:30
Comment
from: Steven Reed [Visitor]
Played Sage Valley last week, the most beautiful golf course i have ever seen.Friendly staff and i was treated like a king.From the club house staff ,to my caddie Louis and to the conditions of the course everything was first class.Sage Valley must be heaven on earth.
05/03/09 @ 09:50
Comment
from: kasera [Visitor]
Thanks a lot for article
08/26/09 @ 02:23
Comment
from: Bruce [Visitor]
While Sage Valley is a very good golf course, I was underwhelmed. You cannot even remotely put it up next to Augusta National (I have played both). While the course was in great condition, the service and the caddies at SV were average at best. Augusta National had so much more character as a golf course and much better caddies. On top of that, Augusta National had a much more warm and welcoming atmosphere than did Sage Valley.
12/18/09 @ 13:14
Comment feed for this post
Comments are closed for this post.