Golf Tip: Three Steps to Creating Backspin with Wedges
A lot of my students ask me how to get backspin with their wedges. They see the Professionals hit short shots to greens that back up towards the pin and they want to do that too.
High-handicappers usually have a misconception of how to get backspin with a wedge. They think that they need to get underneath the ball and scoop the shot. This is exactly the opposite of what you want to do.
To get backspin you actually want to hit down. When you strike down on the ball, the ball rolls up the clubface, the ball flies forward, but it spins backwards, so when it lands, the ball will roll backwards and then stop. To do this, you want to squeeze the ball off the turf: hitting the ball first and taking a thin divot afterwards.
Follow these three simple steps to get backspin with your wedge.
First, set up your body slightly open to your target. This means that you point your body left of the target (if you are right-handed) and lean your weight towards your front leg.
Second, play the ball just right of center. You want the ball further back in your stance so that you catch the ball first on your downswing; your hands should be in front of the ball at address and as you strike the ball at impact.
Third, you want your backswing to be more upright or steeper, so you must hinge your wrists freely as you swing back. The worst move you can do when you are trying to pitch and get backspin is take the clubhead low and inside on the backswing. Take it back straighter and let the club work up. This is what is going to help you pinch the ball off the turf and get you the backspin you desire.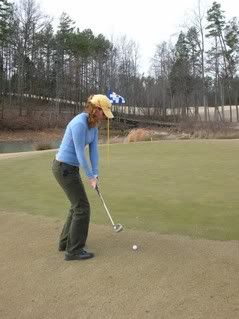 Take the clubhead back straight, letting club work up.
The worst move you can do when pitching is take the clubhead inside on the backswing.
1 comment
Great tips! One thing that's helped my chipping is to keep my hands free of tension. I tend to be too mechanical with my golf swing including chipping. When I keep my hands loose, it seems to help me keep a descending blow to the ball.


03/27/09 @ 22:02
Comment feed for this post
Comments are closed for this post.