Golf Instructor and famous husband give thanks
The end of the year is always a good time to reflect on the things you have to be thankful for in your life. The end of December also happens to be my wedding anniversary so I am always thankful for my husband and the great relationship we have.
Golf always has been and will always be a big part of our lives. To make a long story short, I met my husband Dan Jansen when he came to take a golf lesson from me when I worked at the David Leadbetter Golf Academy in Orlando, Florida back in 1996. You may remember Dan; he won a gold medal in speed skating in the 1994 Winter Olympic Games in Lillehammer, Norway.
We hit it off, but our time together was brief and after that initial golf lesson I would not see for four years. We re-met by chance at a Gary Player charity golf event at the Floridian Golf Course in Palm City, Florida. Dan, obviously knowing a good thing when he sees it, would not let me get away this time and we were married a year later.
Dan and I have been good for each other. He understands the crazy lifestyle of a golf professional because his life as television broadcaster and motivational speaker is just as crazy. Teaching and playing golf for a living can be a grind. You are constantly on the go, traveling to tournaments and clinics all over the country. It is hard to be the happy homemaker. I don't have that kind of life that allows me to have a set schedule, so most nights dinners are improvised, laundry, errands and house cleaning go undone and forget about making plans on the weekends and holidays because that is when most lessons and tournaments happen.
But Dan knows that I really love what I am doing, so he is the first one to encourage me to do whatever I have to do better my career. For this I am thankful.
Golf is not only my profession, but it is my hobby and my favorite pastime. So fortunately for me, my husband has grown to love the game as much as I do. He has gotten pretty good too. Since we've been married he has whittled his handicap down to 3 from a 10 handicap. Not only do we spend all our free time playing golf on the weekends, but we play on vacations too. We've played all the great courses in Pinehurst, North Carolina, Kohler, Wisconsin, Ponte Vedra, Florida and we even got to play Augusta National!
Our new favorite place for a golf getaway weekend is Champions Retreat in Evans, Georgia. In fact we just returned from a two-day trip there celebrating our 7th anniversary. We played 27 holes a day. What a great way to get to know your spouse. So this year I am thankful for my spouse that plays golf. It is fun to be married to someone that loves to play golf as much as I do. Everyone should be so lucky.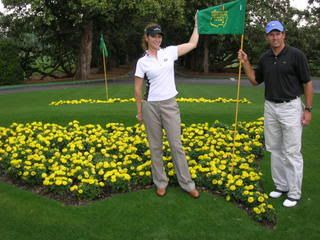 5 comments
Comment
from: Judge Smails [Visitor]
One word: Careerism. The bane of the modern woman. You ought to contemplate what's truly important in life.
12/27/07 @ 16:16
Helping people like myself enjoy life more fully by improving in this maddening game is a noble quest indeed. Although some people are incapable of understanding how anyone - much less a woman - can be fulfilled in taking this path, I'm sure you are proud & satisfied. God bless the teachers of this world.
12/28/07 @ 08:02
While I appreciate the Judge's eternal candor, I line up somewhere between him and Sugar Shanks in complimenting you for your life choices. You're on your way, and we are glad to write at your side.
12/28/07 @ 12:28
But Judge - Karen appears to have already decided - a wonderful partner and golf. What's truly important in your life? That's not a snide question by the way.
12/28/07 @ 14:25
Karen, Happy Anniversary and Happy New Year to you and Dan. Your talent and dedication to each other has allowed you to make enviable choices. All the best for 2008!
01/01/08 @ 15:33
Comment feed for this post
Comments are closed for this post.