Golf tip: For power and accuracy keep left knee firm but flexed
"Hit against a firm left side" is a classic piece of swing advice that many golfers misinterpret. They think it means that the left knee should be stiff and straight during the downswing- a mistake that forces tension into the leg, halts hip rotation, prevents proper weight shift to the left side, and destroys clubhead speed. At impact, either the left arm collapses (Fore left!) or the hands don't release (Fore right!). Not pretty.
Ernie Els had to miss the 2005 President's Cup while recovering from surgery after tearing ligaments in his left knee while tubing in the Mediterranean on a family holiday. For two years, Els was unable to shift his weight properly into his left side because he would stiffen his left knee at impact.
But after many months of rehab and a few swing tweaks, one which included keeping the left knee firm but flexed, he was back at the 2007 President's Cup and defeating the Lucas Glover of the U.S.
In fact, if you watched the President's Cup matches this year, you would have seen that all the good ball strikers had a firm, but flexed knee through impact, not stiff and straight. When you keep your left knee flexed, you'll be able to rotate your hips fully and freely during the downswing.
This rotation is crucial, not only for building clubhead speed with the rotation of your body, but also for keeping the clubface square to hit accurate shots. By properly clearing the hips, you give your arms room to swing the club down and through the line-in other words, to hit the ball straight. The left leg straightens only well after impact, when nearly the full weight of the body shifts onto the left side as the swing progresses from follow-through to finish.
Again, when it comes to the left knee, think "flexed and firm," not "stiff and straight."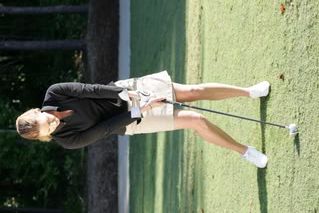 3 comments
Comment
from: Redog [Visitor]
I believe that your hip movements is the source of power and accuracy. This comment clears up how to rotate the left hip on the down swing.

Thanks
11/15/07 @ 08:11
Comment
from: Terry Murphy [Visitor]
I have been having trouble hitting a straight tee ball. As a matter of fact all my shots have been tailing to the right. This afternoon we were out playing, and after a few holes I realized that my left leg was straightening before hitting the ball. I tried keeping my left leg slightly flexed through the shot and boy, what a difference. I can't wait to go up to the range and work on it. I'm a 12 handicap and golf 3 times a week. I just googled left knee flexed to see what came up, and your article was the first. Thanks, Terry
12/07/07 @ 23:11
Comment
from:
Tractor Parts
[Visitor]
I've got the power down, just need the accuracy now. I need to work on keeping the left knee flexed. Thanks for the help.
08/11/10 @ 14:18
Comment feed for this post
Comments are closed for this post.