Golf Tip: Using Imagination to Improve Your Golf Game
Albert Einstein once observed that, "Imagination is more important than knowledge." The power of the mind in the game of golf is well-documented, but few players really tap into that power.
In my next few blogs, I will present a few swing images that can help you learn the correct positions of the golf swing. Play these photos in your mind to help improve your game.
Image for Posture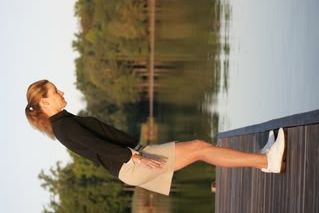 For a solid base and athletic posture at address, imagine you are a swimmer in the set position waiting for the gun to go off to start your race.
Let your arms hang naturally as you hold the club at address.
1 comment
Karen, I imagine we all THINK we look as good as you do when addressing the ball. That's why everyone who can ought to acquire professional aid.

On another note, at some point in your future writing I'd love to hear the story on how you came to use graphite shafts in your irons and what the plusses & minuses are for us amateurs.
08/30/07 @ 13:06
Comment feed for this post
Comments are closed for this post.