LPGA Futures Tour golfer Megan Heckeroth helps me with my golf game (part one)
Megan Heckeroth is a girl after my own heart. Her hot, red Mustang convertible carts around her bag of Cleveland golf clubs. I have a 1971 Oldsmobile Cutlass convertible but can't fit my huge Burton bag (filled with Titleist clubs) into the trunk because the subwoofer takes up most of my space.
She says that although she's a bit "chicken" (I doubt that Megs) she's gotten the car up to about 120 mph once, but only for a second ;-)…okay Megan…me too, but only for a sec..wink, wink!. Both of us share similar taste in music on our ipods from Green Day to Eric Clapton. But most interestingly, Megan and I are part of the new media revolution, allowing us to share our thoughts with the public via blogging, cell phone downloads and podcasting (in my case).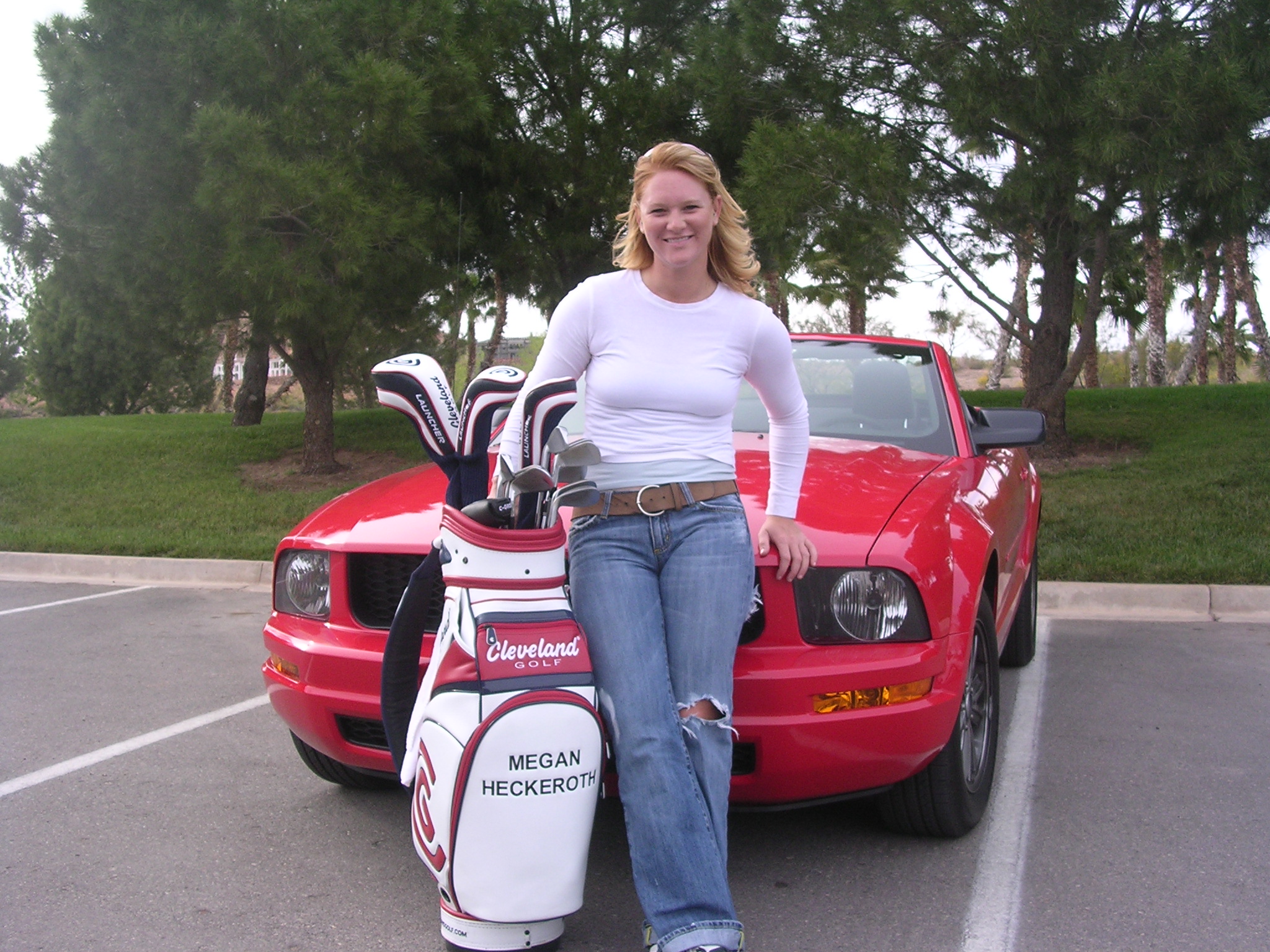 But that is where the similarity ends. Megan is a fully exempt member of the Futures Tour, the developmental tour for the LPGA, and I write about the tours and it's players. What a privilege it was when I recently asked Megan a few questions (I had about a thousand but didn't want to keep her awake all night answering them) about her practice habits and game strategies.
I have recently been having confidence problems around the green because I don't practice much although I have a very solid putting stroke. Megan's response was honest and to the point.
"If you shoot a million you should honestly say that you put 100% into each and every shot. If you think that you are a good putter then you have to learn to let go and let your subconscious take over. Sometimes when you loose confidence and start playing bad you actually try too hard. So my advice is to stick with the same routine for every shot and just let whatever happens, happen and be satisfied with that. The biggest thing that I have learned about this game is that you can never perfect it."
I have been to Megan's website on several occasions, mostly to post to her blog, check out her Futures Tour schedule and to compare her very fluid and confident swing to mine. And yes, I will post my latest swing as soon as I get out to the driving range.
I noticed that her mental coach, Dr. Joseph Parent, has not only helped Vijay Singh with his mental game, "he's (Dr. Parent) given me very effective methods for working with thoughts and emotions, and for taking the negatives out of the picture", but has also written the wildly successful book "Zen Golf: Mastering the Mental Game". Wow, I hit the jackpot! With Dr. Parent as one of Megan's "guides" I just knew I could get responses that could help both myself and our audience, so I asked Megan about how she keeps her focus during a tournament.
"My very favorite thing that I always do in between every shot is look down at my feet and focus on each step that they make. I feel the ground under my feet and take slow deep breaths at the same time. Just completely focusing on the walk to my next shot. This Doctor Parent method really works for me because it keeps me in the present and you actually forget what's going on around you."
So many questions, so little blog space. Part two touches on both Megan's course management and practice strategies, the distance she hits her golf clubs (I wanted to get a comparison) and how often she upgrades her Clevelands. To be continued…and thanks, Meg, for the birthday wishes!
5 comments
Interesting piece. I like Megan's view on the game, and I LOVE the book "Zen Golf"". In my opinion, that book could help the amateur player more than anything Butch Harmon, Leadbetter, or Jim Mclean can do. It is well worth the read.

2006-06-09 @ 20:25
The mental game is probably the most important part of the game. It's not only how well you hit the golf ball, in my opinion, but how even-tempered and focused you stay during a round.
2006-06-10 @ 16:21
Zen Golf, Geo Valiante, or Every Shot Must Have A Purpose are interchangeable to me. The concept that I worked on most with my varsity girls team this year came from the Swedes...think box and play box. Love that concept...love it.
2006-06-10 @ 20:21
Dr. Parent's Zen Golf is a great read, but it is even better to listen to it. When I visited Megan's website, I found out that there was an iPod version (and even CDs). So I downloaded the book into my iTunes & iPod. His soothing voice itself has had a 50% impact on my tempo and my anxious backswing. I highly recommend you download it, put it in your iPod to listen to your favorite setup chapters while warming up at the range; I also burned a CD of it and I listen to certain chapters on my drive to work and on my way to the golf course.
it took off 3-4 strokes from my avg round (mid 80s to low 80s).
His putting and bunker videos in megan's cswing section also helped me stop squeezing my putter and blading the ball out of the bunker.
I hear he is coming out with a new book next year called zen putting...that should definetely help me get in the low 70s...
2006-06-10 @ 22:24
Megan Heckeroth is the worlds best golfer in my mind. She has come a long ways in her golf game and it only improves every year. I just adore you Megan F. Heckeroth. No matter what you're not far away from my heart.
Your dearest friend,
sara
2006-06-15 @ 08:36
Comment feed for this post
Comments are closed for this post.