Lorena Ochoa aggressively seeking LPGA win at Takefuji Classic but with Paula Creamer at her heels, will she fold?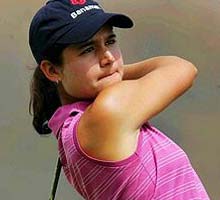 Lorena Ochoa is finally gaining confidence playing in LPGA tournaments, and it's about time!
The 24-year-old Guadalajaran has come on strong in the LPGA Takefuji Classic held this weekend at Las Vegas Country Club. First-round action proved that Ochoa had no fear of the eighty players who made the cut in the 54-hole tournament. Two eagles and six birdies in her opening round of 63 complemented an almost bogey-free round.
But does she have what it takes to be a "finisher"? The cycle of second place anonymity seems to be hanging over Ochoa like a dense fog. Two ties for second this season alone must be filling her with a kind of dread that this phase will continue. Is Lorena like an early Phil Mickelson, unable to lay claim to a major victory for years or is it finally her time to assert herself and grab a share of the spotlight?
Although Lorena Ochoa has already won three LPGA trophies she has also led going into the final round and collapsed under the pressure.
At the Kraft Nabisco Championship Ochoa held a three-stroke lead over Michelle Wie but lost to Karrie Webb in a playoff. In 2005 at the Safeway International presented by Coca-Cola, Ochoa had a one-stroke lead over Soo-Yun Kang but shot a 74 in the final round losing again in a playoff, this time to Annika Sorenstam. At the Safeway, Ochoa led from round-one but the pressure got to her and she literally "gave away the tournament" as stated in her own words.
This year there seems to be a new gleam in Ochoa's eye, a confident stride in her gait which seems to suit her. Instead of worrying that Paula Creamer is creeping up behind her on the leaderboard, Ochoa is mentally preparing herself in advance for the final round.
"Just keep making birdies. You take the lead and you are ahead to feel good tomorrow."
Although Paula Creamer has been a steady player, she has yet to win this season. Creamer didn't start her surge last year until the Sybase Classic in May but once she did the "Pink Panther's" rally lasted throughout 2005 winning two LPGA tournaments and two overseas.
If her new feeling of confidence holds up, Lorena Ochoa will not be worrying about Paula Creamer or anyone else on the leaderboard. The sooner she realizes that doubting her ability makes her more likely to fold under pressure, the quicker the Mexican sensation will move up from that undistinguished second-place to greatness.
Photo Credit: © Mexsport.
5 comments
I don't really follow Lorena Ochoa, but I think her problem comes from the fact that she is a "feel" player. When she is under the pressure on Sunday, she may get tight. A mechanical player can rely on her techniques but a feel player relies on her body. And any unnatural tightness may wreck havocs to her swing. Down goes the confidence and she may no longer be able to "feel' her swing.
2006-04-15 @ 17:03
I recently read that when Ochoa is a bit anxious she tends to get more aggressive with her irons, overhitting them. She stated that they go further and her distance control suffers.

This time Lorena succeeded with a wire-to-wire victory!! It wasn't a complete "gimme". Seon Hwa Lee gave her a run for her money with birdies on five of her remaining six holes.
Congratulations Lorena!
2006-04-16 @ 11:20
Well, it would appear the lovely and talented Ms. Ochoa took the Colomon's advice. A fantastic tournament for Ochoa.

She's the money leader and playing better than anyone. It will be interesting to see if she can keep it up, and how long she needs to keep it up before anyone notices.

--WKW
2006-04-17 @ 18:55
I have been watching Lorena Ochoa since last season when she came oh-so-close at the Mastercard and at the Safeway. I'm glad that she's finally allowing herself to win.

The next girl that needs a confidence boost is Natalie Gulbis! Once she learns how to win Gulbis will be invincible!
2006-04-17 @ 19:28
I've been watching Lorena Ochoa since the Michelob Championship.She's playing pretty well, and i think she's going to win more.She has the chance to be the world number one.
2006-07-01 @ 06:02
Comment feed for this post
Comments are closed for this post.