Sensational win at Kraft-Nabisco puts Karrie Webb in contention for $1 million at ADT
By Stacy Solomon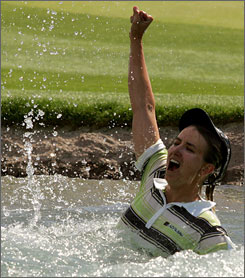 With all of the blogger hoopla surrounding Michelle Wie and her third place finish at the Kraft Nabisco, I haven't really noticed any discussion regarding the miraculous eagle at the 18th on Sunday by the youngest World Golf Hall of Famer Karrie Webb. That birdie during sudden-death was also pretty intense.
So here I am giving props to Karrie Webb. With a bogey-free Sunday, Karrie climbed from a seven-stroke deficit claiming that changes over time in her swing and confidence in her putting helped her hoist the Dinah Shore Trophy.
If Wie would have eagled to go two strokes ahead of Natalie Gulbis, Lorena Ochoa and Webb, I bet Tim McDonald wouldn't have let up, claiming "the Big Wiesy" as the next LPGA "numero uno" but he failed to mention that the chip for eagle running way past the cup is what set her up for her eventual loss. Wasn't that pressure?
Not even a blurb of Ochoa rising to the occasion was penned, coming back from three bogeys on the back nine to get into a sudden-death playoff with Webb.
With seven majors in her pocket, Webb now climbs to within two majors of Sorenstam and has a chance to go for $1 million at the season-ending ADT Championship gaining automatic entrance with her victory.
Destiny for Karrie Webb? Wie seemed to think so. After her defeat Michelle said, "Karrie holing it out, or eagleing it out on the last hole, me not making that putt, maybe it's not meant to be."
Photo Credit: © Chris Carlson, AP.
2 comments
Good Job Karrie!
2006-04-07 @ 06:39
go karrie webb ur my star
2006-06-13 @ 00:31
Comment feed for this post
Comments are closed for this post.