Maui's best finishing hole? The Kapalua Plantation Course's 18th has stiff competition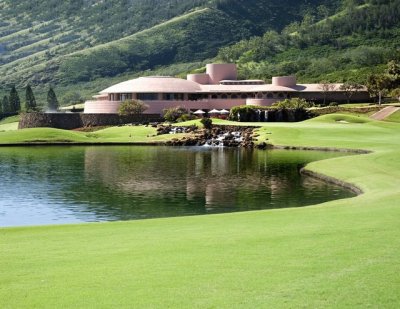 LAHAINA, Maui, Hawaii – Thanks to the PGA Tour's Hyundai Tournament of Champions, we've seen the 660-yard 18th hole on the Kapalua Plantation Course from every angle.
Severely downhill and usually downwind, even hackers can hit their tee shot 300 yards. The fairway is so wide you can swing as hard as Bubba Watson.
It would be natural to think of this scenic and captivating hole as the finest closing hole on the island. But there are other candidates on Maui for "Best Finishing Hole."
You may have never seen the 18th hole of Wailea Golf Club's Emerald Course on TV. But the course has a collection of holes that are among the island's most picturesque, the 18th being the best of the bunch. From an elevated tee, the hole plays downhill, straight towards the Pu'u'Olai cinder cone. While the drive looks a little tight, the hole opens up once you get to the fairway, and the green is tucked behind a smattering bunkers. At 553 yards downhill and downwind, it's a green light special on a picture perfect resort course full of them. Click here for Emerald photos including the 18th.
A third candidate for Maui's best closer is at King Kamehameha Golf Club, set on the slopes of the West Maui Mountains. What makes this par-5 remarkable is that from the tee box, you don't see much as you must tee off over a small hill. When you get over the crest, the famous Frank Lloyd Wright-designed clubhouse behind the green is revealed, as well as a waterfalls both in front of the green feeding into a pond and a second behind the green (that you eventually drive under after your round). It's a fitting climax to Maui's most exclusive golf experience.
As Rick Castillo, director of golf at King Kamehameha, pointed out to me during my visit last fall, each of these par 5s are reachable and play with the trade winds at your back. Aside from these three finishers, Royal Ka'anapali and the Dunes at Maui Lani finish with great par 5s that are ripe for birdies.
With these standout last impressions, each course gives you a great chance to walk off the green happy - and that's what golf on Maui is all about.
No feedback yet
Comment feed for this post
Leave a comment