You don't have to be a local to score a great deal on Maui at Kahili Golf Course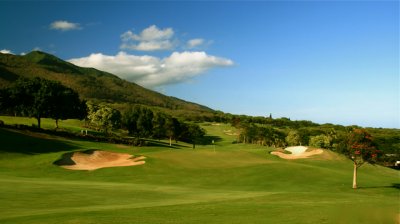 WAILUKU, HAWAII – Golf in Hawaii can be expensive if you don't have a coveted state driver's license that unlocks ka'amaina rates at just about every course, whether it's $10 to play Maui County's Waiehu Golf Course or upwards of $80 to play high-end resort courses like the Plantation Course at Kapalua (a course the rest of us pay about $300 to get on).
But tourists have been scoring a local-worthy deal this season at Kahili Golf Course on Maui. Kahili, set on the slopes of the West Maui Mountains is currently offering a "Super Twlight rate all day" that gives golfers 18 holes for $55.
Rick Castillo, director of golf at both Kahili and King Kamehama introduced the rate earlier this year and says it's been a success for both the course and the restaurant that has a large menu of both traditional Hawaiian food, Asian and American dishes. He doesn't have a plan to end it anytime soon and said it could be offered the rest of the fall and possibly even into the holiday season. If you find yourself on Maui anytime soon, be sure to take Rick up on the deal.
While I skipped on Kahili this week on Maui to see some other courses I hadn't seen before, it is certainly a bargain at $55 as one of Maui's better daily fees along with the Dunes at Maui Lani nearby. Click here for some photos from my visit last year. With no homes on the site, it's one of the more natural, rolling courses on the island with a mix of open holes and others played lower through trees.
Kahili's location means you're probably pretty close to the course wherever you're staying in Maui, whether it's about 20 minutes south in Wailea or about 30 minutes west in Ka'anapali. The $55 rate can be booked online at HawaiiGolf.com or at GolfNow.com.
No feedback yet
Comment feed for this post
Leave a comment