Stay and play on Maui in style and space at Fairmont Kea Lani and Wailea Golf Club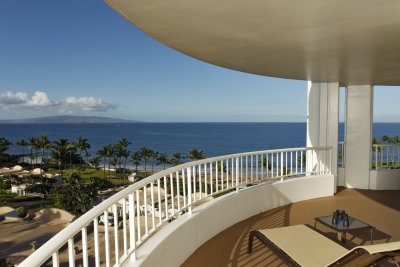 Of all the Hawaii resorts I've stayed at, what separates Maui's Fairmont Kea Lani from the rest is the space. Each guest room has open, ocean view balconies big enough to hold a dinner table for two. Inside are large living areas, bedrooms and baths. The 840-square-feet of space comes standard, by the way - there's not a tiny room in the joint, but you can go bigger if needed.
When you're in Hawaii, you're there for the light, the sunsets and the open air. And that's what you get at Kea Lani, plus a nice dose of Fairmont service and amenities. For my trip, it made for a great base to take on one of my more ambitious days of travel.
In recent years, improvements have been made to the 22-acre property in sunny, calm south Maui, like redesigning all of their pools (including an adults-only pool). At the moment, the resort is renovating their restaurant, Ko (Fairmont's site notes the work site will be "screened with tasteful, temporary enclosures"). The remainder of their dining options will remain open. And Ko's menu will be available elsewhere.
While renovations will continue through the fall, you can stay-and-play at Kea Lani with their Ultimate Golf Package for as little as $569 and includes daily breakfast, transportation to and from Wailea and golf for two at one of Wailea's three courses.
This package special is valid thru Dec. 16, when renovations are expected to wrap up in time for Christmas. Also coming soon, additions and upgrades are being made to the resort's villas, which are located below the hotel closer to the ocean. Multi-level units intended for extended stays, they feature their own private pools, full kitchens and grills, and you can even hire a personal chef for the evening.
And if you're not familiar with Fairmont's President's Club, be sure to sign up, whether you're looking at Maui or one of their other properties. Not only does it get you free internet access at any of their properties, but members also have access to free sets of Taylor Made rental clubs (everywhere except certain golf resorts, click here for a full list). You can use them on the three courses at Wailea, or even take them up the road to another course like Kapalua or King Kamehameha. So you don't even have to bring the clubs along for the ride if you're staying at Kea Lani.
No feedback yet
Comment feed for this post
Leave a comment