A new low for high gas prices: Orlando Airport-area station sneaks $5.79 gas into tourist tanks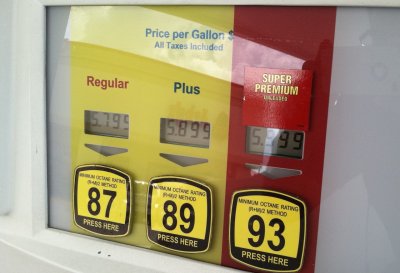 ORLANDO, Fla. – Every destination, from Europe to Ohio, has its tourist traps.
What I saw on my way to Orlando International Airport this afternoon zoomed straight past "tourist trap" en route to criminal.
$5.79 regular unleaded gasoline: found at the two gas stations closest to the airport on Highway 436, the road you can take between downtown and Orlando International Airport.
I'm used to paying a slight up charge to fill up at the nearest gas station to the airport, but only about 10 or 20 cents higher than the local average. Between convenience and the fact rental car companies will charge $8 per gallon, it's a small price to pay.
When I unknowingly pulled into a gas station just about a half mile from the airport, the Suncoast Energys station. I had the pump in my hand before I realized the price was over $2 a gallon more than Orlando's average.
I felt like I was in the middle of some bad dream. Did the debt ceiling screw over the U.S. dollar that bad overnight? Was I in Little Switzerland? Does the Denny's next door serve $10 waffles?
I pulled out, drove across the street to a gas station with similar yellow trim. Sure enough, $5.79 a gallon. It was then I finally realized that neither station had signs you could see from the road displaying their price. Clearly they're hoping no one notices.
With a little time to spare before I needed to be at the airport, I drove about a mile north, where I saw a 7-11 on my right with signposted gas prices more inline with what I expected. Filling up at $3.63 a gallon never felt so good.
Flabbergasted with the nerve of two stations to try and sell $5.79 gas, I had to tell the first person I saw, which was the Avis drop-off agent at the airport. She immediately knew what I was talking about.
"They've been getting fined every week," she told me. "But they don't put up a sign. They must make good money."
Upon returning home, I discovered CNN wrote about this place back in April. I also found local news has been all over this place since 2008.
Apparently a local ordinance says gas prices must be signposted and the fine is $250 per day. Either they aren't paying the fine or they make so much money catching motorists it's worth it.
While I escaped Suncoast just in the nick of time before pumping any gas, I noticed a couple other cars pumping away. The meter next to me had pumped 1.7 gallons for about $10. Another next to it had pumped about four gallons to the tune of $23. Sadly, one poor chap pumped up about 12 gallons for $75.
In the WFTV local news report from 2008, Suncoast issued an unapologetic statement:
"Every business takes advantage of a location to make a profit. Convenience always has a price in the market place."
It's a new low for greedy businesses trying to cash in on tourists. So just remember to look at the price before you pump.
3 comments
we did the same thing aug. 6 got lucky my credit card was rejected than i noticed the 5.89 thought i was seeing things went across the street also what a crock of b.s. owner should be deported or thrown in jail had to look this story up to show family in ohio they didn't believe me just unreakl!!!!!!!!
2011-08-07 @ 07:24
Comment
from: Theodore Smith [Visitor]
Fortunately the gas prices were reasonable when I was in Orlando. I drove to Fort Myers and played a few rounds at Colonial Country Club and I was impressed. The course was in immaculate condition, and the green fees were quite reasonable, especially after comparing them to other courses in the area on the http://www.colonialcountryclub.us website. I played with players of different skill levels and the variety of tee boxes made it enjoyable for each player. I would suggest to golfers in the area to try it.
2011-09-04 @ 14:59
It happened to us also.. We were in a hurry to return our rental car, and get to our flight.. Pulled in there, and proceeded to pump and realized it was almost $6.00 per gallon.. Such a rip off... Normally I look at gas prices, but there prob hoping to get people that are in a hurry or distracted.. I'm surprised their allowed to do that legally!!
2013-11-27 @ 05:23
Comment feed for this post
Leave a comment