Sneak peek at the new Jim Engh-designed Awarii Dunes Golf Club in Nebraska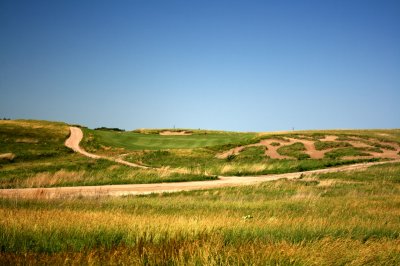 KEARNEY, Neb. – Strange as it may sound, Nebraska seems to be emerging as one of the top links golf destinations in North America.
No ocean, sure, but the sandy dunes are there. Not only is there Sand Hills Golf Club, but courses like Prairie Club and Dismal River. Each features sandy, rolling soil in remote locations that have become popular pure golf retreats.
A new golf course is getting in on the action for 2011: Awarii Dunes, located in Kearney off the main east-west artery I-80 (far more accessible than the above clubs located deep into the sandhills). Designed by Jim Engh, the club will have a real estate component and hopes to eventually go fully private. But for now, the club is offering public preview play and stay-and-play packages with the Holiday Inn in Kearney for $190.
Showing up to the first tee of Awarii Dunes was a shock compared to what I was used to with Engh: wild, windy, sandy, rugged and Irish-inspired, full of dunes, wispy grass and blind shots. Many greens played like fun houses: huge slopes several feet high that punish shots hit to the wrong tier. Some pins, in a three-club wind, seemed virtually unattainable. Members will have the advantage here big time.
Playing the course, it didn't feel like the Engh style I've come to learn and enjoy. It represented something you might expect from David McKlay Kidd - or some of Tom Doak's nuttier stuff. I couldn't help but liken Engh's effort here to say, Will Ferrell playing a serious role in a drama: Sure, it might be a good flick. But halfway into it, you wish you were watching him bust out the jazz flute and do what he does best. My round at Awarii was never dull, but I wished I was on the more manicured stylings of True North and Tullymore, two golf courses high among my favorites in Michigan.
It also seemed like Awarii Dunes isn't quite showroom ready. The grounds could probably use a full summer of growth and maintenance. The clubhouse is temporary and the practice green hadn't been seeded yet. So don't feel like you need to rush out here, about two hours west of Omaha, immediately.
When Awarii Dunes matures, it will make a really good one-two punch with Wild Horse Golf Club. Another links-style course on the edge of the sandhills an hour down I-80. It has a well earned reputation as one of America's best values, and conditions are as good as any private club you'll ever play.
1 comment
Comment
from: Brad Penner [Visitor]
Learn more about the great golf experiences available in Nebraska. Go to GolfNE.org for a free brochure.
2011-06-22 @ 08:16
Comment feed for this post
Leave a comment