In time for Father's Day, Prince Edward Island is a great spot for family golf getaways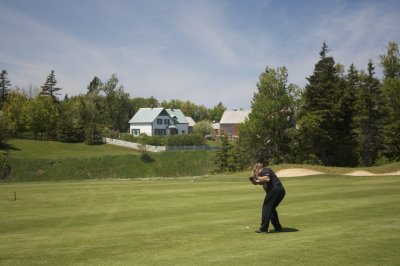 Few golf destinations have the type of family-friendly atmosphere of Prince Edward Island on Canada's eastern side.
For starters, the island's residents are down-to-earth and the community is tight knit. I don't think anyone ever leaves, frankly. I'm not a dad yet, but I'd imagine a place like PEI would make for great peace of mind knowing those working in the hotels, restaurants and parks here seem to all know their neighbors and their neighbors' neighbors.
It's the type of place you could probably cut your kids loose for a few hours on the beaches or in the parks and not have much worry about anything happening to them. "It's a great place to raise a family," one resident told me. "Kids can just be kids around here."
Mom and dad will enjoy great seafood restaurants, microbrews and many ways to unwind outdoors, from beaches to forests. Kids can be introduced to great outdoor scenery and wildlife, plus little attractions and amusements around the resort town of Cavendish. You could introduce them to fishing and golf on the same trip.
For daughters, PEI is also the home of Anne of Green Gables. While I've never read the series, I was dumbfounded to learn how many Japanese girls, many of whom read the books in school to learn English, make the journey later in life to Prince Edward Island to visit the site of the house, which is located right beside Green Gables Golf Club's 11th fairway.
So if you're looking for a Father's Day gift suggestion that brings the family together, check out one of a handful of golf packages being offered right now for the summer season on PEI. One package currently offered through GolfCanada.com is the Cavendish Family Fun Package. The five-night package features rounds at standouts Mill River and Green Gables Golf Club, plus Eagles Glenn, Glen Afton and 9-hole Countryview Golf Course. Additionally, some courses like Eagles Glenn let kids play free after 3 pm with a paid adult.
The package culminates with dinner for four at New Glasgow Lobster Suppers, which on top of PEI-caught lobsters, includes all-you-can-eat appetizers including mussels, beverages and desserts. And what kid doesn't like AYCE?
2 comments
Great article Brandon!
2011-06-17 @ 13:10
PEI is sooo beautifuly in the summer!! Another great place for families is Vancouver Island - can't beat the fun things for everyone to do. I was here recently and stayed at the Accent Inns where they offer a great golf package and the staff were superb. The hotel is close to everything making it easy for me to not only golf a great course but enjoy the various sites this beautiful city has to offer.
2012-04-20 @ 14:08
Comment feed for this post
Leave a comment