A little victory in the fight versus the critters who steal food from our golf carts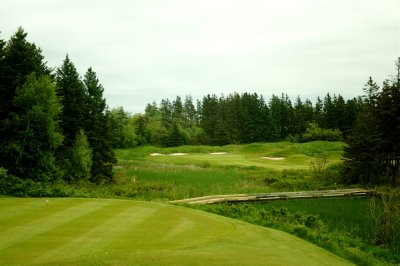 PRINCE EDWARD ISLAND, Canada – A war is being waged between golfers and those little on-course critters that loot our golf carts for candy, keys, wallets, etc. Today, I battled a malicious crow who came after my Snickers bar.
These encounters are nothing new to me during my golf travels. One time up in the Canadian Rockies, a couple of squirrels had a tee box staked out better than Butch Cassidy and the Sundance Kid on the Pony Express. As our group walked up the steps from the cart path to hit our tee balls, they raided our carts mercilessly. We were fresh off of a stop at the halfway house and were robbed blind of candy, hot dogs, you name it.
And most recently, there was the infamous incident with the mini bar-raiding cockatoos in Australia.
Suffice to say, I ain't taking it like a sucka no more!
The most recent skirmish came this morning before my round at the Links at Crowbush Cove, on the sparsely populated northern coast of Prince Edward Island. I decided to leave my breakfast, a Snickers bar, in the cup holder of my cart while I hit some putts before the round. Large, black crows were all over (hence the name of the course and the championship tee markers sculpted into massive crows that I would mistake for live birds all day). As I putted on the practice green, one was getting a little too familiar. Eventually, he landed in the seat of my cart to scan my goods. I shooed him off. A minute later, he was back, I shooed him off again.
I could have diffused the situation by simply putting the Snickers in my bag, but I thought at this point he might stay away. But a minute later I looked up and the crow had the Snickers in its mouth, taking flight! I'd been had again!
But I had just arrived in Canada the night before and had no loonies to purchase another Snickers, and I was really looking forward to that snack. I wasn't going to give this round to the critters so fast.
With my putter still in hand, I chased him towards a cluster of trees between the driving range and the sixth hole. He landed on a branch halfway up a pine tree, dangling the bar in his mouth. I ducked and wove between limbs, parting my way through trees to get as close as I could but was still a good 15 feet from him. But he didn't fly away to safety. Like Dwyane Wade's reaction to making that 3-pointer late in the fourth quarter of Game 2 of the NBA Finals in Miami, he stood there, taunting me. A little cocky, are we? I saw my opening …
My caveman instincts kicked in and I took my $79 Odyssey mallet putter and hurled it, end-over-end at the branches around him. Wood cracked and I heard the shriek of a frightened crow.
As my weapon hit the ground and the dust settled, the bird was long gone. But alas! My Snickers had fallen to the pine needles, unopened! I crawled under the tree and secured it before any other crows could get their beak on it.
I munched it down immediately, and it tasted especially delicious. This must be why Mark Zuckerberg kills the food he eats himself, I thought.
I proceeded to the first tee and topped two balls right into the water. But I wasn't angry. The way I saw it, I had arrived at the first tee one-up!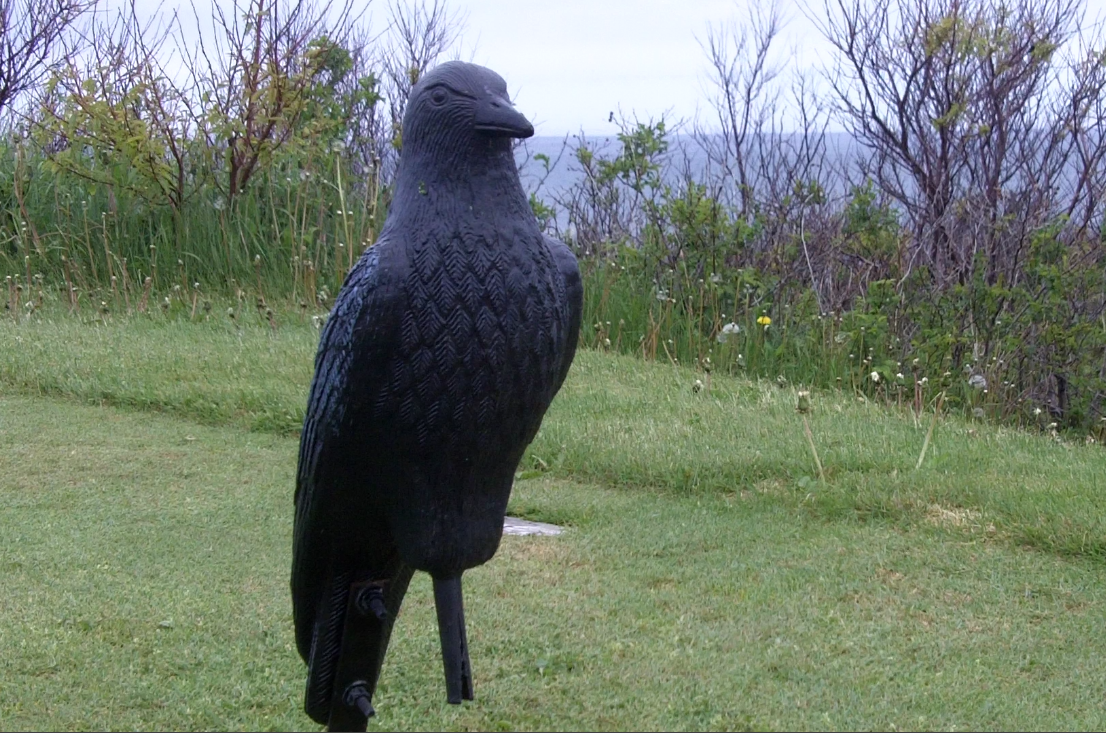 Crows are the tournament tee markers at the Links at Crowbush Cove.
3 comments
Comment
from: Mark Nessmith [Visitor]
Classic. BTuck, you are golf's own Ted Nugent. Must be a Michigan thing. :-)
2011-06-07 @ 01:35
Comment
from: Bruce Leonard [Visitor]
Winning one for the hominids! Way to go. Well written, funny and audacious, Brandon.
I'll see you in Nebraska.

Bruce Leonard
2011-06-11 @ 18:23
Thanks Bruce, looking forward to husking some corn or starting multi-billion dollar holding companies, whatever it is they do in Nebraska.
2011-06-12 @ 07:33
Comment feed for this post
Leave a comment