Bandon Dunes Resort's Mike Keiser hints new par 3 golf course will run $100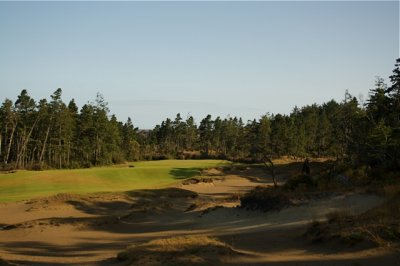 Reports from Oregon's Register-Guard on Bandon Dunes' new par 3 course, Bandon Preserve, say Mike Keiser has an idea of what the resort will charge golfers when it opens next year.
According to reporter Mike Stahlberg, Keiser said "we think we'll charge $100″ for the 13-hole Preserve. That hardly sounds set in stone, but signals they have high hopes for the second Coore-Crenshaw design at Bandon.
Given the piece of property the par 3 course will be set on and the fact the resort hasn't really failed at anything to date, I have no doubt the Preserve will become one of the best public-access par 3s in America. When playing Bandon Trails, I always thought the dunes to the right of the first hole would have made for some great holes. I had always just assumed there was some kind of environmental restriction to building there.
The $100 rate doesn't make sense to me though. Right now, golfers can replay any of Bandon's four championship courses in the afternoon for $110. Would you pay just $10 less to play a 13-hole par 3 course? Hopefully, the Preserve offers its own replay rate for those who slugged it out on Pacific Dunes or Old MacDonald in the morning.
In northern Michigan, Treetops Resort's fantastic 9-hole Threetops par 3 course, for example, charges $45. Or, for $159, you can play unlimited golf all day on the resort's four championship courses and Threetops. Given Michigan's long summer days, you could probably play two championship courses (my favorite being the Fazio Premier) and Threetops if you're a junkie like me.
One other nugget of competition at Bandon Dunes is that the driving range is free to resort guests and has a fantastic putting course and chipping greens, so feasibly you could get some late afternoon golf in for no charge.
We'll see what Bandon eventually settles on for the Preserve. But if I were calling the shots, I'd consider an $80-90 rack rate or a $40-45 replay.
No feedback yet
Comment feed for this post
Leave a comment