Sunday evening in St. Andrews: They're still thinking of Seve - and other sights and sounds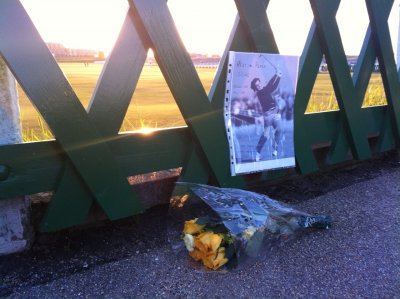 ST. ANDREWS, Scotland – You can do just about anything on the Old Course in St. Andrews on Sunday except hit a golf shot. So unlike my colleague Mike Bailey who had the chance to play the course for the first time earlier this week, I spent my one evening here soaking in the scene.
I chose to make the walk down from my guest house just a pitch shot from the course, Six Murray Park (www.sixmurraypark.co.uk) down the 18th fairway to the Jigger Inn for dinner, lured in by the Jigger's club sandwich. They use this real soft flat bread, egg, and thick, juicy bacon. And having gone at least seven hours in Scotland without bacon I was clearly due. With a pint of Belhaven's or perhaps their own Jigger Ale, it's worth making the 350-yard sunset walk down the 18th hole of the Old Course, over the Swilcan Bridge and past the Road Hole to do so (though I suppose I'd do the same for a Big Mac and a Coke).
On the way, I saw some yellow flowers left in honor of the late Seve Ballesteros, who passed away a day earlier. He was especially adored in St. Andrews for his three Open Championships wins, including one on the Old Course in 1984. Flowers and a picture were left behind the 18th green, while another set was left beside the Swilcan Bridge. A building next to the Tom Morris Shop also had it's Scottish flag at half mast, to which I'm guessing was in his honor as well.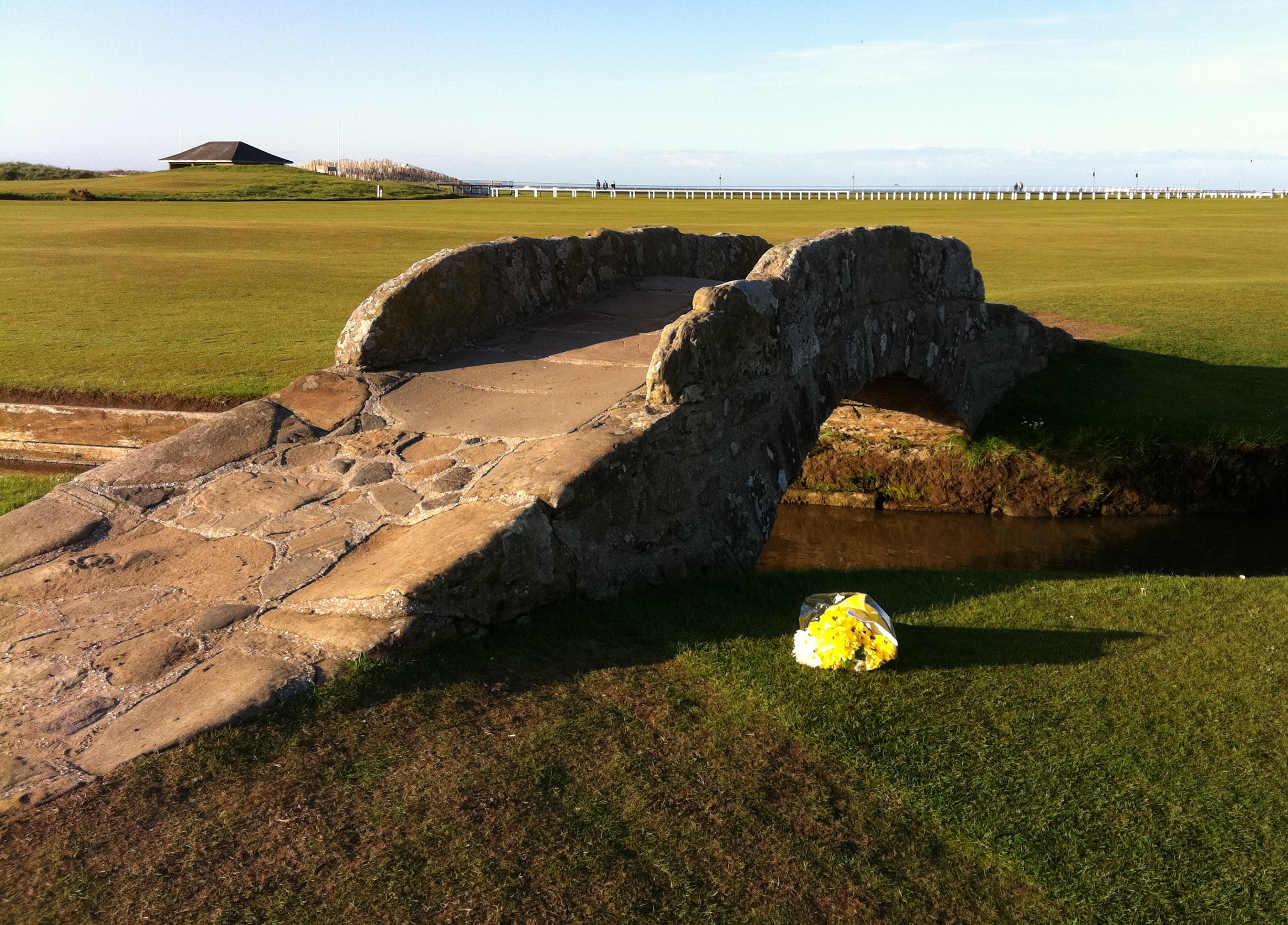 As I continued to make my way down the 18th, four small children were rolling and tumbling all over grass and each other. I was immediately reminded why I'll always favor St. Andrews over Augusta National. And I feel comfortable as ever saying that having finally visited the Masters this year.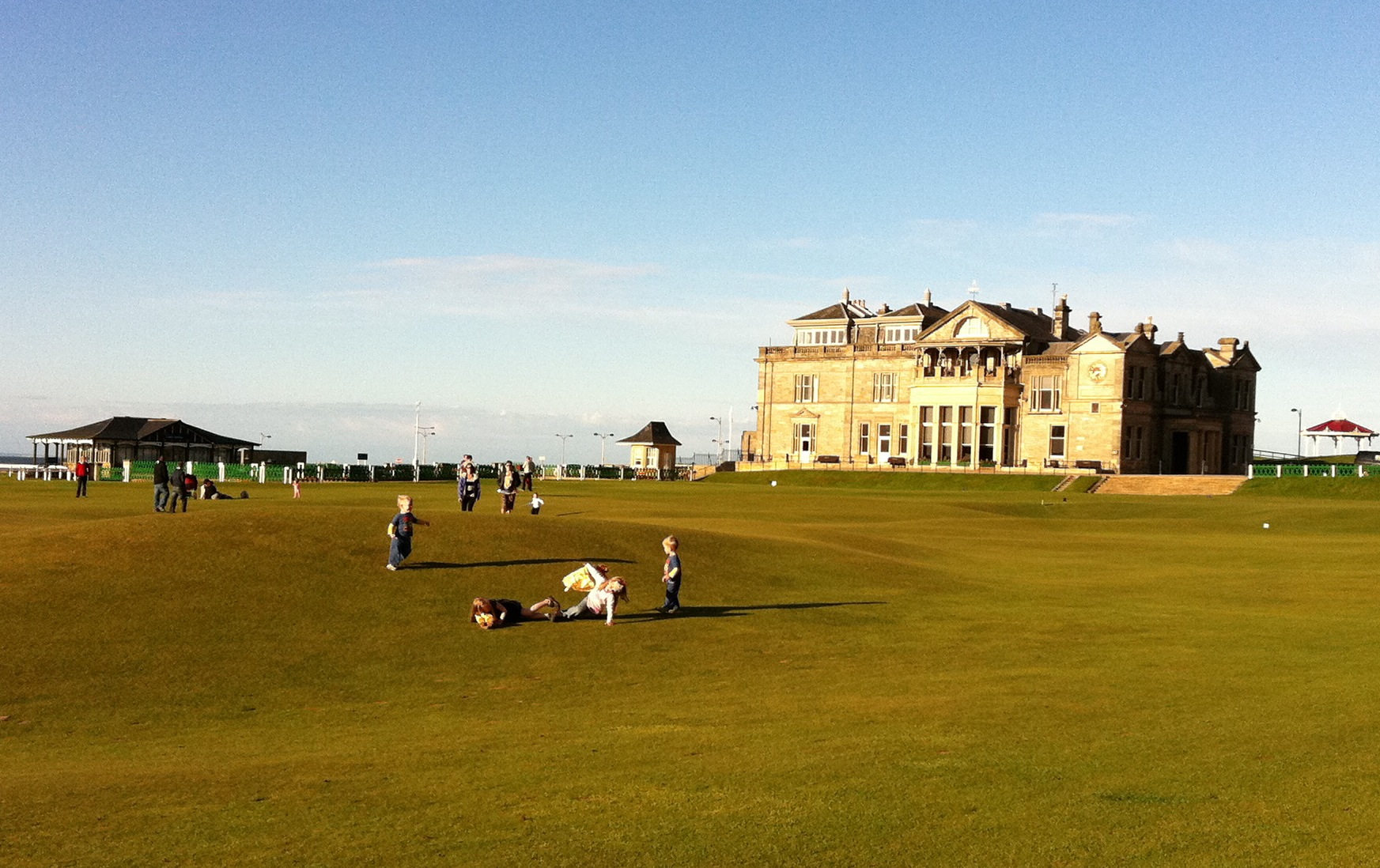 On my way back from the Jigger Inn, I dialed up my girlfriend for the weekend check-in. I mentioned to her that I was walking on the "Road Hole" as we spoke and that she should feel honored, and she humored me. As we spoke I heard bagpipes in my other ear and become distracted, and I followed them to West Sands Beach. Despite this being my third time in St. Andrews, I've never actually made it onto West Sands (perhaps taking "stay away from the sand in St. Andrews" a little too literally). I wouldn't suggest you do the same as this long beach is quite a sight, especially at sundown. I walked out and there were two bagpipers performing in front of a fire with college kids surrounding them. Some were off to the side attempting Scottish folk dance but mostly just flirting, while others were huddled, drinking beer. In fact, I looked like the oldest person on the beach. This must be where the kiddies hang out on Sunday.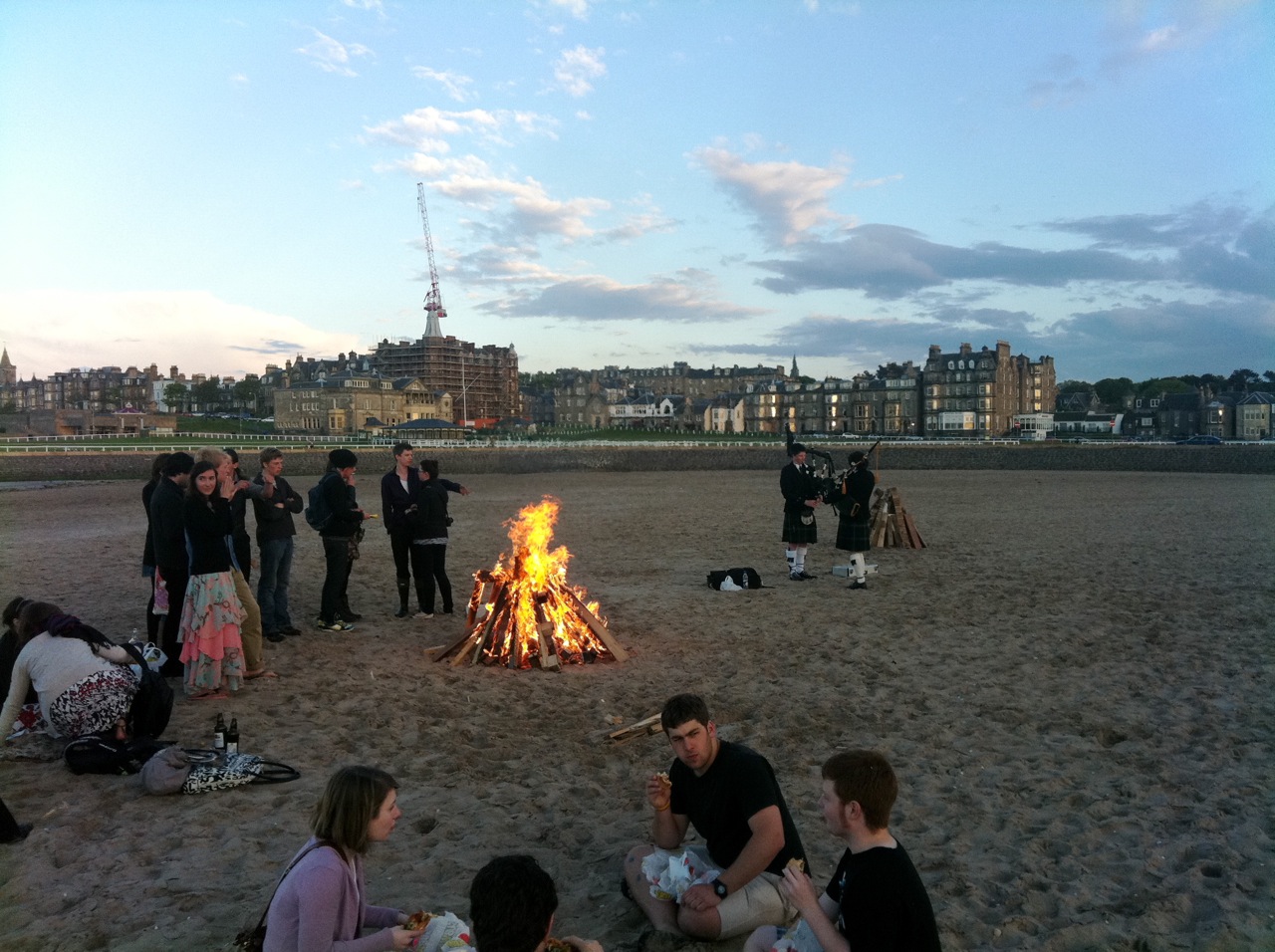 As the sun set, I made my way back towards my guest house, walking just a few more steps on the Old Course. That's when I began thinking about tomorrow's round: a morning tee time on Kingsbarns Golf Links. Five years ago, I was eaten alive at Kingsbarns. The greens drove me mad, and I couldn't hit a driver.
Sunday walking around the Old Course is great, but I can only take about three hours out here without a club in my hand before I start itching to hit a golf shot.
2 comments
Comment
from:
Mike Bailey
[Visitor]
Ah, it looks like it cleared up after I left. It was raining Sunday morning. Good luck on Kingsbarns. Played it Wednesday. It did not disappoint.
2011-05-08 @ 15:40
Comment
from:
Mike DiCarlo
[Visitor]
Brandon,
Stop by to see Monarchs House at 26 Queens Terrace. We will gladly furnish you with a beverage of your choice.
All the best,
Mike
2011-05-09 @ 06:32
Comment feed for this post
Leave a comment