Details galore at thrilling Castle Stuart Golf Links in the Highlands of Scotland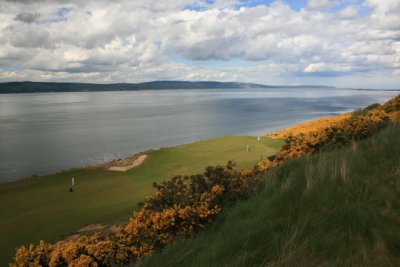 INVERNESS, SCOTLAND – If details make or break a property, ambitious Castle Stuart Golf Links should thrive.
That's the impression I had today after 18 holes, followed by a coffee with one of the owners, Grant Sword. Sword is an accomplished hotelier in the Highlands. In fact, he ran the Royal Golf Hotel in Dornoch before it was sold. When the new owners went under and sold the property in 2006, Sword led an operating team that finally got it running again last summer, and it's back to shining bright on the doorstep of Royal Dornoch. He is also overseeing plans for Castle Stuart's upcoming Dormy House and luxury hotel.
Castle Stuart's 12th and 13th hole showcases, in my opinion, the most thoughtful of many aspects to the operation. The 12th (pictured above from the 17th tee) is one of six holes that plays on a low-lying strip of land on the Moray Firth beneath a 150-foot seawall (where 12 other holes lie atop a plateau). To lessen the burden of climbing up this wall to the 13th, the architects moved sand from the 13th hole (which helped create the giant bunker below the fairway on the left) down to the 12th fairway, which now makes the hole gradually rise tee to green. It also helps give this par 5 some intimidation on a course that is otherwise free-swinging off the tee.
But here is where the details get scary impressive: Golfers are given a coin at the starter shack (any American will gladly take a freebie when taking their greenbacks abroad), good for a soda or water at a vending machine halfway up the path between the 12th and 13th.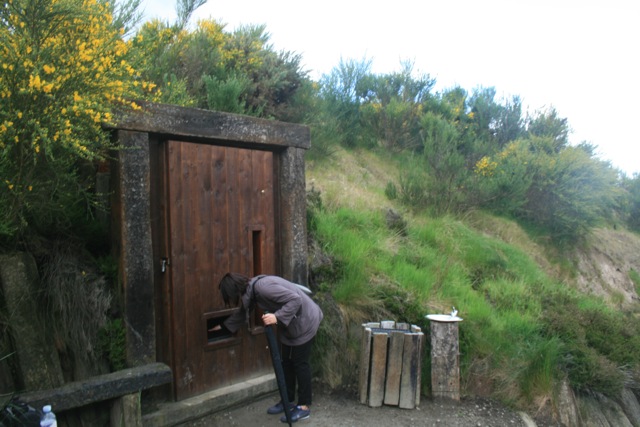 Ownership instituted this perk in order to break up the 40-foot ascent just a little more. And when you get to the 13th, the fairway is probably the most forgiving drive on the whole course. After a swig or two, the heart rate should be fine and dandy.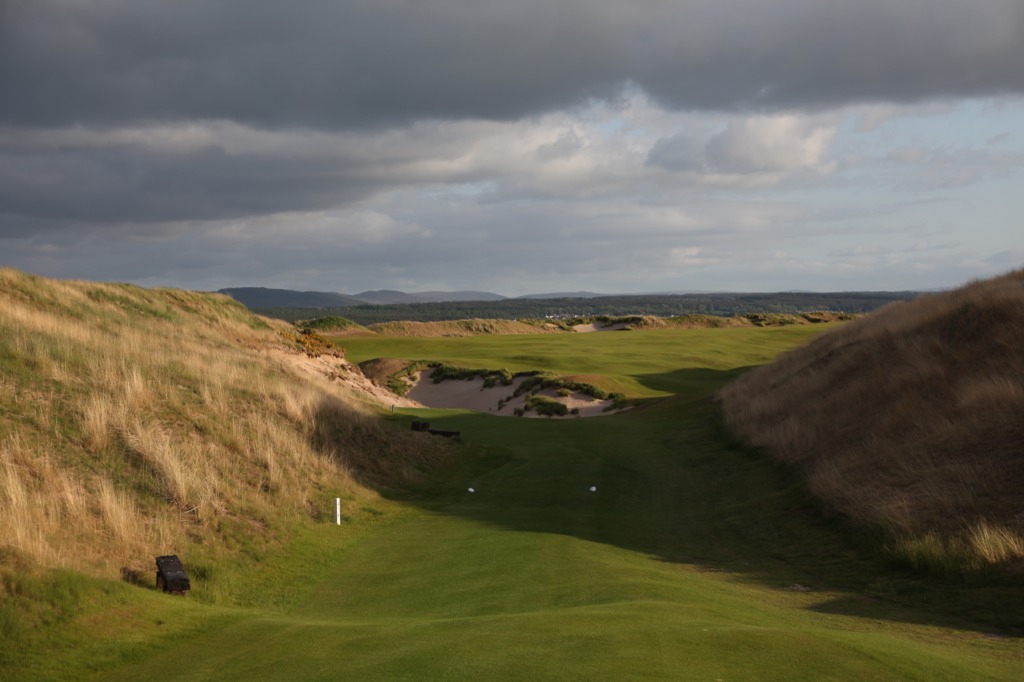 Courtesy of Castle Stuart
Details are everything. I thought about details after the round when I stopped into a Nairn Fish Shop off A96 and ordered a chili cheese dog. It was served to me in a styrofoam box and upon opening it, was upside down. I spent the next few minutes scraping cheese, piecing it into something edible and wishing I had eaten at the clubhouse. Details, like serving a chili dog chili up, were an afterthought here.
Full review and more coming to the network soon on Castle Stuart. Like many of the links in Scotland, there is plenty to write about…
No feedback yet
Comment feed for this post
Leave a comment