How do you cope with jet lag in Scotland? You could have Royal Dornoch all to yourself at sunrise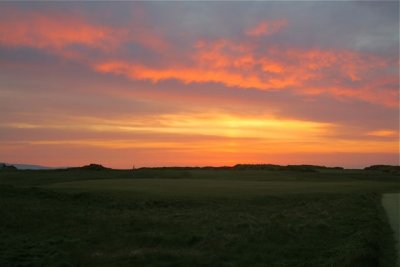 DORNOCH, Scotland – I'm spectacularly awful at adjusting to trans-Atlantic time zone changes, especially when I'm flying riff-raff class, full of screaming babies and a few too many "duty free" announcements from the flight staff in the middle of the night…
So, no surprise to me, I couldn't get more than about two hours of shut eye on my first of seven nights in Scotland.
Up here in the Highlands, there is already plenty of summer sunlight. Last night for dinner at the newly reopened Royal Golf Hotel, I ate salmon and chips while watching golfers finish up on the 18th green of Royal Dornoch, shaking hands at 9:30 p.m. with a hint of sunlight to spare.
This morning, as I stared at the ceiling in my room, the animals outside became restless around 4 a.m. Soon after, color began filling the sky. Rather than count sheep, I figured I may as well head outside and walk amongst them. After all, it is the Highlands…
And what better place to walk at sunrise than Royal Dornoch? A path heads straight from the hotel, out alongside the course and to the beach. I split time walking between the sandy path and on the firm fescue fairways, giving a nod to the maintenance staff who were already out there getting the course ready for the day.
With a camera in hand, I was able to get a few decent shots before the sun ducked behind clouds, where hopefully it won't stay too long. I have a tee time later this morning. But a little rain could be a good thing today, it sounds like wildfires have been racing through the Highlands lately. Who'd have thought the British Isles could have such severe drought?
1 comment
Comment feed for this post
Leave a comment