Bacon-wrapped bananas to Corales Golf Course: First impressions in Dominican Republic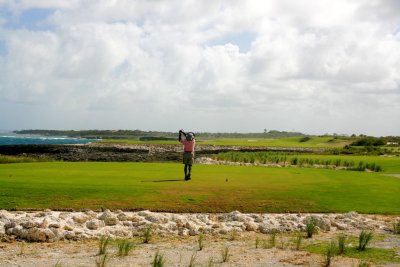 PUNTA CANA, DOMINICAN REPUBLIC – I'm en route home after spending about 72 hours in the Domincan Republic for the Dominican Annual Tourism Exchange, where the Royal Wedding wasn't discussed as much as high fuel prices affecting summer airfare costs and the potential of the untapped Samana province.
I'm no expert on D.R. quite yet, but here are some observations after my maiden trip:
- Compared to some of the more Americanized Caribbean islands, Dominican Republic has a Caribbean-European fusion vibe to it. Architecturally, many of the luxury resorts feel like properties you'd expect in Greece or Spain and island marketing has that Euro tone as well. In many cases, music in restaurants and hotels were electronic and Euro-lounge rather than reggae or parrothead tunes.
- Culinarily speaking, on more than one occasion I was served a tapas with fruit and meat paired together. This included a banana slice wrapped in bacon, finally providing exception to the rule: everything is better wrapped in bacon.
- It's surprising to me how international the tourist market at the Dominican Republic is. Over 50 countries have flights into the country. Eleven come each week from Russia, which explains why customs forms have spanish, english and russian on them.
Around Punta Cana, I expected more bilingual Spanish-English signage and service industry employees who could communicate easily in each, but it was a little harder than expected. The Hard Rock Punta Cana is an 1,800-room casino resort with about a one-to-one guest-to-employee ratio. They're competing with a wealth of other resorts on the island who need bilingual staff, so it's easy to see why they're stretched pretty thin here.
- The remote province of Samana is an emerging tourist region of Dominican Republic. We took a brief tour through Las Terranas, a beautiful little fishing village on the coast with virgin beaches and gravity-defying palm trees.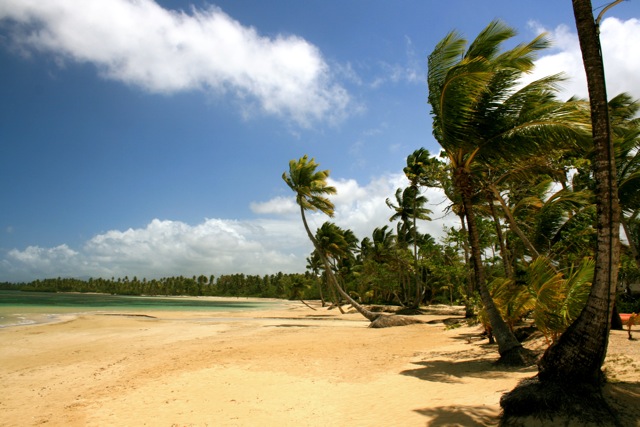 This province is geared towards eco-tourism, but a few new luxury properties are on the way, including El Portillo, Viva Residence and Balcones Del Atlantico. Officials say golf will be built here within two years at properties like Country Club Las Terranas. But if I've learned anything about the Caribbean, "two years" probably means closer to four.
- If you're like me, you don't like the thought of buying golf balls in a resort course's pro shop, because they're practically double the price of a box at Golf Galaxy or Target. And for what? A logo ball that you'll end up feeding back into the weeds in 20 minutes?
Contrarily, upon checking in at Cana Bay Palace Golf Club, I asked where they had golf balls for sale. "How many?" he asked as he took out a crumpled paper bag. I said five, and he dug in, pulled out five, good quality balls and charged me a buck each, cash only, no change. That's my kinda pro shop.
It's easy to figure out where they're getting the balls. Nearly every hole of the golf course is lined with native areas. On the third hole, I pulled a 7-iron into the bush, and when I got near the spot, a ranger was in there, and had already found it (and several others), seemingly getting ready to put them back on the open market. That's efficient recycling.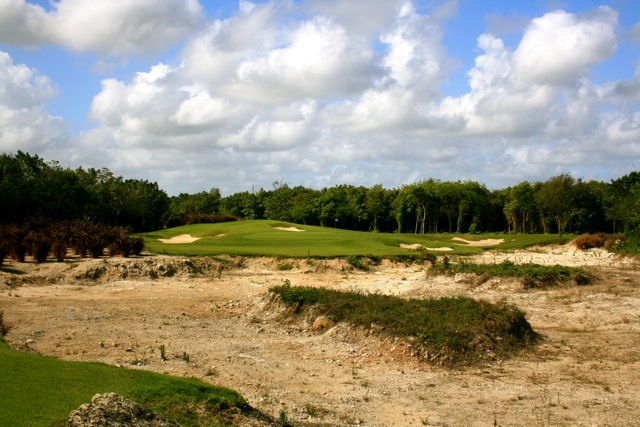 The Nicklaus-designed Cana Bay Palace Golf Club
- The first golf course I played after stating my favorite golf course architect for golf travelers was Tom Fazio, was coincidentally Fazio's Corales Golf Course at the Punta Cana Resort. And after playing a Nicklaus-design the following day at Cana Bay Palace, I still think Fazio knows best how to create drama without being too difficult to the mid-handicapper sporting rental clubs and a desire to play a championship but first-timer-friendly design.
- Upon arrival at Punta Cana Airport and before proceeding through customs, arriving passengers go through a line where they're told to cough up $10 to buy a tourist card. About six steps after receiving it, you hand it to another agent who scans and inserts it into some shredder-looking contraption never to be seen again.
My two cents: if you're going to shake me down the second I get off a plane, at least make that "tourist card" some kind of memento that can go in a scrap book or something.
- There are 28 golf courses in the Dominican Republic, with a few more planned. Driving around Punta Cana and Samana, there is still an atmosphere of development and growth, and it seems like a lot of projects continue to move forward. With such an international market, it seems like this country is able to weather economic downturns better than other destinations where the market isn't as diverse. But with summer airfares topping $1000 to Punta Cana, incentives at resorts are going to have to be pretty sweet to talk some vacationers down here.
More to come next week on golf around Punta Cana, including a spotlight on the massive new Hard Rock resort, the brand's only all-inclusive in the world, and the spectacular Corales Golf Course.
3 comments
I love the Dominican Republic! It is such an awesome place to go on holiday and some of the golf courses are out of this world!
2011-04-29 @ 22:29
Beautiful spot for Golf
2011-05-01 @ 06:54
Comment
from: Mitzi Bierman [Visitor]
I am looking to buy a home in punta cana are there any?
2011-05-02 @ 21:48
Comment feed for this post
Leave a comment