The five biggest snubs left off the new Golf Digest Top 100 Public Golf Courses ranking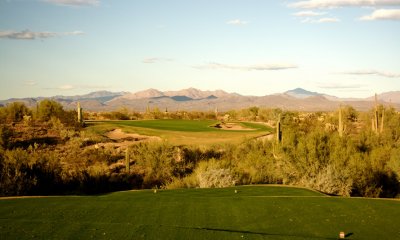 On Monday I pointed out ten observations and quibbles about the new Golf Digest 2011-2012 Top 100 Public Golf Course Rankings (click here).
Today, I'm back for part two: The five best courses I've played in the U.S. that weren't ranked.
Why such a counter offensive? Well, I've met too many golfers who take these Top 100 lists too literally and go out of their way to play as many as they can. That's why I'm a little more favorable to the Golf World Reader Rankings or Zagat's Golf Guide.
If you play any of the following five golf courses on my recommendation and don't think you got a fantastic, destination golf experience for the money, I owe you a beer.
The top five snubs
We-Ko-Pa Cholla (or Saguaro): We-Ko-Pa has two of the most enjoyable plays in an area with 200 courses. They are well-priced compared to its competition in what many consider the best winter golf destination in the U.S. That doesn't land a Top 100 spot? Frankly, it seems more like a recipe for Top 10.
I'm not sure which of the two We-Ko-Pa courses I like more. I just know at least one of them should be a Top 100 course. Some purist panelists may argue golf doesn't fit naturally into the desert. We-Ko-Pa is the exception. Try playing either and say these 36 holes don't fit right in to its surroundings.
Both are competitively priced compared to the top-shelf golf courses in Scottsdale at under $200 peak season, and affordable replay specials are also available.
Whitehawk Ranch Golf Club: This Graeagle-area sleeper pick north of Lake Tahoe is an absolute joy to play. Designed by lesser-known Dick Bailey, the routing weaves in and out of forest into an open valley floor with huge views of the surrounding wilderness. This ingenious routing means the backdrops are always changing, conditions do too (from open and windy to shady and tree-lined) and the round flies by too quickly. Next time I'm here, I'm playing 36.
At under 7,000 from the tips with some real birdie chances, the course isn't out to humiliate anyone, rather give all abilities a chance for a low round in a phenomenal setting. It's also more affordable than the best courses in Truckee and Lake Tahoe at $125 prime time.
Greywalls at Marquette Golf Club: Michigan received a lot of respect in the Golf Digest rankings with ten entries. But GD panelists missed the state's most unique play, a wild and rugged design by Mike Devries near Lake Superior. Not only should Greywalls be in the state's Top 10, the case could easily be made to slot it in at the top.
Those of you who don't know Devries, he's a former intern of Tom Doak who learned the game at Crystal Downs. Unfortunately, he's more of a regional name and probably deserves more projects than his current roster. If you like the style of Coore-Crenshaw courses but find them a little too tame, a Devries course like Greywalls or Kingsley Club will tickle your wild side.
Couple Greywalls with Sweetgrass and Timberstone in the U.P. with a package at the Island Resort and Casino, and that's one great summer golf weekend.
Makai Golf Club at St. Regis Princeville - My hunch as to why the Prince Course at Princeville recently closed to renovate its course is because a year prior, the next door Makai really upped the ante with an enhanced new layout and firmer, faster paspalum turf. While not as tough or jungly as its famous neighbor, Makai features a par-3 shot over the ocean on the front nine - then a drivable par 4 along the cliffs on the back. The long, inland par-5 second hole, which gently tumbles down towards the water, might be my favorite hole in Hawaii. Like Whitehawk Ranch, this is another course where the surroundings constantly change between winding through Cook pines to oceanfront thrillers.
When the Prince reopens in October and the conditions are primo, it's probably a better golf course, but Makai isn't that far behind.
Classic Club in Palm Desert: This might be the most disrespected golf course I've ever played. A few tour pros in the Bob Hope Classic complain about wind, and suddenly it gets panned? I'm not buying it. This is a refreshing, parkland style golf experience (which is tough to find in Coachella Valley) that isn't overly beautified with palm trees and tropical foliage, but instead with northern-esque pine trees and rolling turf.
The shot values are tour-worthy at over 7,200 yards, but any handicap will have some exciting risk-reward opportunities (like a lipped-out eagle putt on 18 from yours truly). If you really think this course is in some kind of wind tunnel, you're probably paying too much attention to a disgruntled Phil Mickelson.
I also give Classic Club a seal of approval because it's a muni, but managed to an upscale standard by Troon Golf (who also run operations at the Makai Golf Club). While the Classic is a bargain for desert residences, it's a pretty good deal for the rest of us ($129 at GolfNow.com in peak season).
3 comments
Comment
from: Kiel Christianson [Visitor]
Spot on analysis. Magazine rankings are too influenced by non-golf factors like name-recognition and schmoozing, I think.
2011-04-21 @ 05:13
Comment
from: Joe Strawn [Visitor]
Both We-Ko-Pa courses are superior to many courses on this Top 100 listing and its a travesty that neither made the list.
Shhhh! Greywalls is a secret Michiganders are trying to keep from the rest of the golfing world.
You nailed it on your comparison of Arcadia Bluffs and Bay Harbor. Both are world class but Bay Harbor's hole selections are superior.
Keep up the good work.
2011-04-21 @ 22:28
Comment
from:
Larry Berle
[Visitor]
I totally agree with you about We Ko Pa-- both courses--
I also agree with Greywalls-- the others I have not played

I am one of those people who took the list literally and played the entire Golf Digest top 100 and completed the 2002 list... most were private.

I wrote a book about my journey A GOLFERS DREAM visit www.GolfersDreamBook.com
2011-04-22 @ 07:34
Comment feed for this post
Leave a comment