Golf Digest's new Top 100 Public Golf Courses rankings: Ten observations, quibbles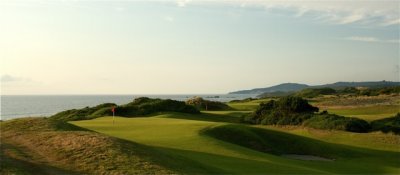 I'm sure even the editors at Golf Digest will tell you their new 2011-2012 Top Public Golf Courses rankings smack of imperfection.
But we can all play Monday morning caddie right? So here are my 10 initial thoughts upon scanning the list.
• Number of golf courses in Top 100 from Phoenix-Scottsdale and Tucson? Zero. In fact, Arizona only has one course, and it's The Rim Golf Club, northwest in Payson, Ariz. No Troon North, Ritz-Carlton Dove Mountain, Ventana Canyon, We-Ko-Pa … keep going?
• Shadow Creek in Las Vegas continues to gain steam, climbing up to sixth position. The question is, if this design was in say, Lake Tahoe, would it be rated this high? How much of the applause is simply for the ambition to get a course this green in Vegas? I open the floor to a panelist, because I haven't been, and I'm not holding my breath.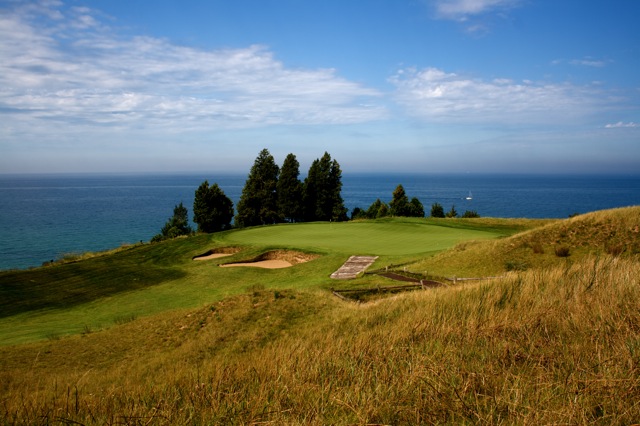 Arcadia Bluffs' back nine.
• In northwest Michigan, Arcadia Bluffs is 10th while Bay Harbor is 66th. No way should there be 56 courses between the two. I wrote a column last year comparing the two Lake Michigan courses, and I found the hole variety a little better at Bay Harbor.
• The Club at Pronghorn's Nicklaus Course debuts at 23rd. Why such a high debut for a course that was built in 2004? Well, that's because Pronghorn opened up a new, on-site lodge, officially making this club, with side-by-side Nicklaus and Fazio designs, a "destination" and not a pure private club. When you include Crosswater at Sunriver and Tetherow Golf Club, central Oregon makes the case to tack on a few days before or after your Bandon jaunt.
• Tullymore Golf Club and True North Golf Club, two Jim Engh designs in northern Michigan, are close to one another in the rankings, with True North a couple notches ahead at 33. At 35. True North has a better forest-mountain ambiance than Tullymore, but Tully's hole variety is as good as any of the courses I've played in the Top 100.
• Pinehurst No. 2 is eighth, though this must be their pre-renovation design because the new Coore-Crenshaw look just opened last month.
• A couple courses I've played on this list that I think are good but not necessarily "Top 100″: Eagle Eye in East Lansing, Mich., Crosswater at Sunriver Resort, and Old Greenwood in Truckee, Calif. They're all great if you're a low-handicapper. Mid-handicapping destination golfers could probably do better in any of these destinations.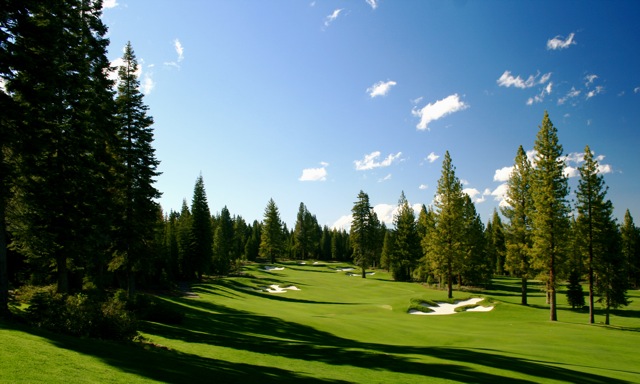 If you're in the neighborhood of Old Greenwood in Truckee, swing by Timilick Club (pictured), too.
• I don't really understand the 35-point jump for the Blackwolf Run Meadow Valleys. It's been under renovation the last couple years. Is this a "by assumption" rating?
• Tidewater Golf Club tumbled from 41st to 94th. It's a great design on pretty remarkable marshy terrain. I wonder if too many panelists encountered pace-of-play problems there like I did. That takes a little luster out of what could be arguably the best in the area. If you could guarantee me a four-hour round there it might be my favorite Myrtle Beach golf course.
• Golf Digest loves Michigan. There are 10 courses listed total second only to the much bigger California (11).
• Golf course in the Top 100 I don't think I'll ever be "in the neighborhood" of? Hawktree Golf Club in Bismark, North Dakota. Thanks to Dennis Collet for his lone review of Hawktree in our WorldGolf exit polls.
5 comments
Comment
from:
Larry Berle
[Visitor]
Brandon
you made some excellent picks here-- expecially in AZ... I have played the entire Top 100 (not just public) and wrote a book about it-- so I know most of these courses learn more
www.golfersdreambook.com
2011-04-18 @ 10:22
Comment
from: Jim Finn [Visitor]
One thing Golf Digest needs to explain to me is how can a five star course(of which there are only 24) be omitted from a top 100 ranking?
2011-04-19 @ 02:01
Comment
from: Roger [Visitor]
Quality rankings...... Just flew from Michigan to play The Pronghorn Nicklaus Course and I will be back for more. The course, staff, and facilities are top shelf! I also have played Tullymore a few times and this course gets better every time...... both are exceptional public facilities!
2011-04-19 @ 11:24
Comment
from:
Mae Russell
[Visitor]
Great list!!! I am going to play on some the courses!
2011-04-24 @ 06:19
Comment
from: Tammy L. [Visitor]
Hey Brandon-
That's too bad you don't think you'll ever be in the neighborhood of Hawktree. You have no idea what you're missing! As Dennis Collet indicates in his WorldGolf exit poll, Hawktree is a "masterpiece" and a 'hidden gem' well worth going well out of your way to play." I encourage you to add ND to your list of golf destinations. You'll be absolutely amazed! Two other ND courses that have received national praise to put on your radar: Bully Pulpit and The Links of North Dakota. I hope to see you golfing Hawktree or one of ND's other 116 courses soon!

2011-04-26 @ 08:38
Comment feed for this post
Leave a comment